Autism Soccer Walk 2022, Walk like a Champion!
Save the date for our annual #AutismSoccerWalk on Saturday, October 29th, 2022
Your Support will Promote the Social Inclusion of our Blue Angels
Walk like a champion!
Autism Soccer is a non-profit organization, founded in 2012 by Óscar Amuz, that day by day seeks to promote the inclusion of our Blue Angels, through the teaching of soccer skills, in an environment of love, support and understanding. Our children learn that with training, confidence, and love everything is possible.
We need your contribution and support to raise money in order to continue to reach children and families with autism throughout the Miami-Dade County. Our goal is to expand and continue to develop a physical education for the foundation in our community.
So, get ready and invite family and friends. Remember - the more participants, the more positive effect we will have!
Save the Date!
Saturday, October 29th, 2022 | Amelia Earhart Park
For More Information: 304-469-0895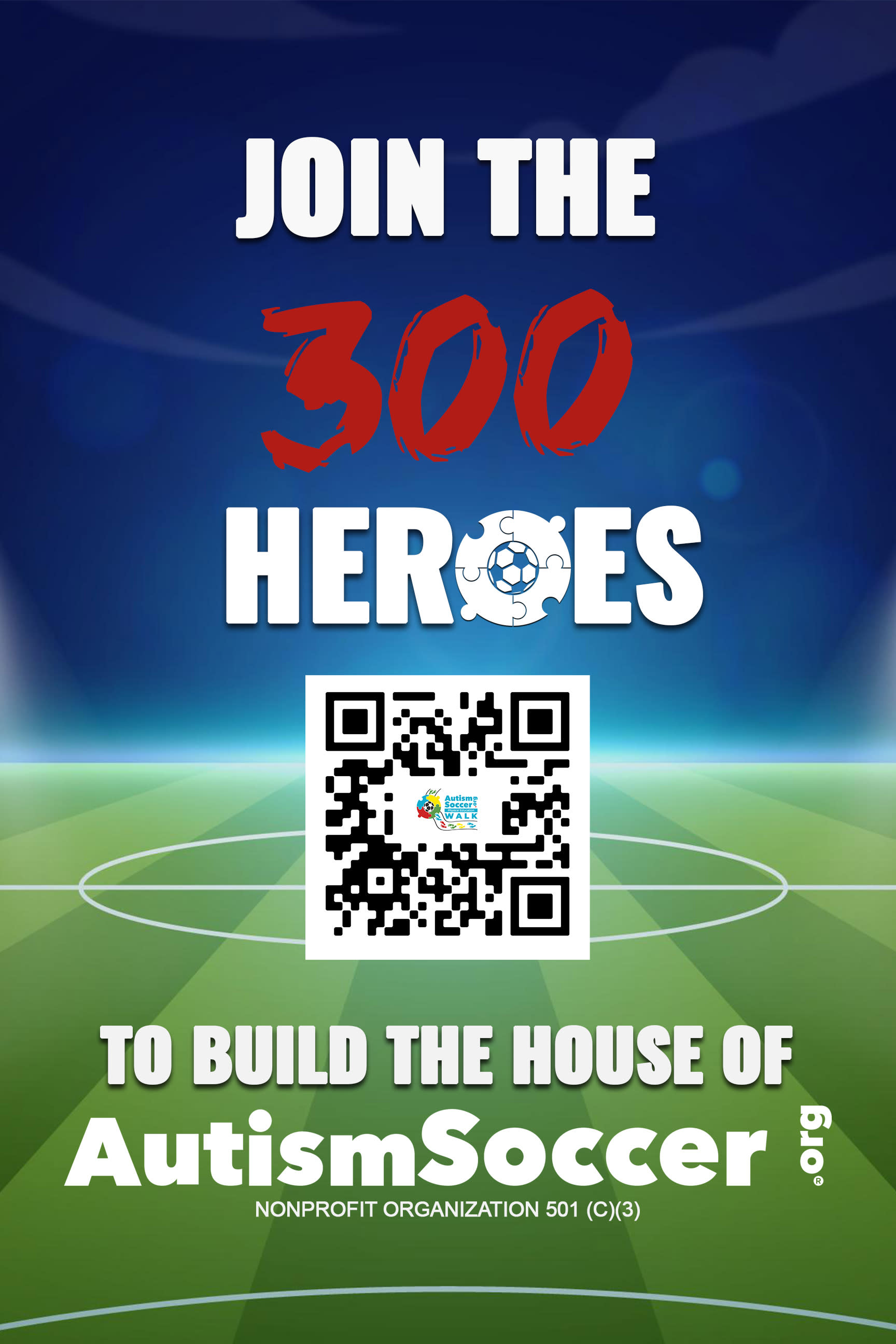 For a soccer field for our Blue Angels!
Autism Soccer, in its effort to continue promoting sports for our Blue Angels, this year we set a goal to inaugurate a soccer field by 2022.
With this project, we intend to contribute to the development of children and young people with autism, their social inclusion and physical improvement. With the objective of giving continuity to the generation of spaces to ensure healthy coexistence, culture, sports and recreation.
With your support we will be able to build facilities and acquire equipment to facilitate sports therapies for our children with ASD. That is why we are looking for heroes to support us with a donation of $1,000. By contributing to our cause, you will get a plaque with your name on it which will be placed on the field.
Do a good deed, contribute to our cause.
"Sport is an essential instrument of formation, maturation of the person and social inclusion, capable of involving people of all ages, groups or conditions."
Oscar Amuz
¡Por una cancha de fútbol para nuestros Ángeles Azules!
Autism Soccer, en su esfuerzo por seguir promoviendo el deporte para nuestros ángeles azules, este año nos propusimos como meta lograr inaugurar para el 2022 una cancha deportiva de fútbol.
Con este proyecto, se pretende contribuir al desarrollo de los niños, niñas y jóvenes con autismo, la inclusión social y mejora a nivel físico de los mismos. Con el objetivo de dar continuidad a la generación de espacios para garantizar la sana convivencia, la cultura, el deporte y la recreación.
Con tu apoyo podremos lograr construir instalaciones y adquirir equipos que faciliten las terapias deportivas de nuestros niños con TEA. Es por ello, que estamos en la búsqueda de héroes que nos apoyen con un donativo de $1,000. Al contribuir con nuestra causa usted obtendrá una placa de reconocimiento con su nombre el cual será colocada en la cancha.
Haz una buena acción, contribuye con nuestra causa.
"El deporte es un instrumento esencial de formación, maduración de la persona e inclusión social, capaz de involucrar a personas de todas las edades, grupos o condiciones"
Oscar Amuz
Donations
Anonymous donated $1.50 to Hialeah City Football Club
Anonymous donated $1.70 to Hialeah City Football Club
Anonymous donated $1.70 to Hialeah City Football Club
Anonymous donated $2 to Hialeah City Football Club
Anonymous donated $1.60 to Hialeah City Football Club