Colorado Birding Challenge
5,089 total bird species observed
Join us on May 7, 2022 | Sign up or make a pledge today!
Birders striving to save the Gunnison Sage-Grouse
The Colorado Birding Challenge (COBC) was created to provide an annual flow of funds to support specific bird conservation projects. Funds raised in this year's COBC primarily support sagebrush habitat restoration in the Gunnison Basin which hosts 87% of the world population of Gunnison Sage-grouse.
Your donations to the 2022 COBC will support the Gunnison Basin-Sagebrush Ecosystem Alliance's (GB-SEA's) cheatgrass removal and sagebrush habitat restoration. In addition to Gunnison Sage-Grouse recovery, this will support habitat recovery for other sagebrush dependent species including Brewer's Sparrow, Sagebrush Sparrow, Sage Thrasher, Green-tailed Towhee and Vesper Sparrow.
Participation in the Colorado Birding Challenge is simple:
Gather a group of 2-4 friends, family, or coworkers to form a team (solo "teams" can register in the non-competing category).

Decide what category you want to be in - Green, Big Sit, Automobile, Photo/Audio, Youth, Non-competing

Register - a team leader should create the team and then all team members can join it

Solicit donations - we are all doing this to support Gunnison Sage-Grouse conservation. Reach out to your networks to get their support

May 7th - Bird, Bird, Bird!
Donations are accepted online or via check. Check donations can be made payable to "Colorado Field Ornithologists" and mailed to: Colorado Field Ornithologists, ATTN: COBC, P.O. Box 187, Lafayette, CO 80026
(Please include the name of the team/individual you are supporting on the Memo line.)
COBC County Registrations
Teams will be scored based on the number of species reported and the county selected. A 'par' has been calculated for each county, and teams will attempt to have the highest percentage of a county's par.
For example, if Denver County has a par of 100 and Team A sees 83 species, they will have 83% of par. If Team B finds 45 species in San Juan County, and the par is 50 species, Team B's 90% of the par is a higher score.
More Information about county par can be found here.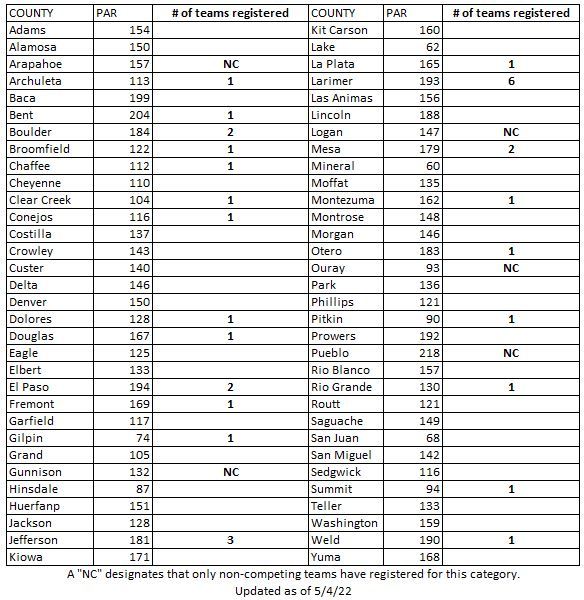 Colorado Birding Challenge Rules & Participation
These Rules shall be the official rules for the Colorado Birding Challenge competition and shall supersede and take priority over any official rules for ABA Big Day competitions. For clarification of any rule or resolution of any conflicts in interpretation of these rules or the ABA Big Day rules, as they relate to this competition, please consult the event judges by emailing cobc@cobids.org.
Click here for detailed rules.
Want more information on participation? Check out our Participant Guide or the FAQ section at the bottom of this page.
Your Impact
Weed management with emphasis on eradication of cheatgrass has been identified as a top priority in the USFWS Recovery Implementation Strategy for the Gunnison Sage-Grouse. The cheatgrass invasion of the Gunnison Basin is in the early stages but is gaining rapidly and represents one of the major threats to the declining Gunnison Sage-Grouse. The current global population of Gunnison Sage-Grouse optimistically numbers 2,700 individuals. Their persistence in the sagebrush sea is highly doubtful if cheatgrass continues to spread and manifest into an ecosystem conversion from the diverse sagebrush steppe to a monoculture of non-native grass that provides zero habitat value for sagebrush obligate wildlife. Once cheatgrass dominates the landscape, fires burn so frequently that sagebrush can no longer recolonize, and the habitat is permanently lost.
Support for the coordination of multi-agency public land and private lands is crucial to the success of the habitat restoration effort. The Gunnison Basin-Sagebrush Ecosystem Alliance (GB-SEA) formed to coordinate a concerted effort to eradicate cheatgrass on public and private lands before it becomes well established. The alliance comprises federal, state and local governments; non-government organizations; and Western Colorado University.
Donations
Gaia Mika donated $25 to Elena Klaver
Lucy Braham donated $25 to Birds-R-Us
Philip McNichols donated $100 to Philip McNichols
Laura Tyson donated $25 to Birds-R-Us
Thank you to Elena!
Kevin Sanderford donated $1,000 to Bryan Gieszl
FAQ's
1. Can I participate in the Colorado Birding Challenge on a date other than May 7, 2022?
Yes, but only in the non-competing category. To compete, you must participate on May 7.
2. If it rains/snows on May 7, is there a rain date scheduled?
There is no rain date. The event will proceed as scheduled, rain or shine. If weather impedes your itinerary, you may move to another county, but you may only report data from one county if participating in a competitive category. You must update the county in your Pledge-it account prior to submitting your total to CFO.
3. How do I participate in the Colorado Birding Challenge?
Please consult the CFO website (cobirds.org/cobc), the Guidelines for Participants, and the Event Rules. If your question is not answered, email your question to COBC@cobirds.org.
4. Can I participate in a county outside Colorado?
Yes, but only in the non-competing category. Your eBird data and your funds raised are still very valuable.
5. Do I have to be a CFO member in order to participate?
No. CFO members and all students register for free. Others can register for $50 through the Pledge-it registration page. We set this up to encourage birders to join CFO and enjoy the many benefits of membership. If you prefer not to join, you are still welcome to participate in the event.
6. If I or my donors pledge an amount per species, why does Pledge-it collect credit card information at the time of the pledge, rather than after I report my results?
This is done to ensure that collection of pledges goes smoothly after the event. The card will not be charged until May 15, after the final number of species is reported. The amount of the donation will be adjusted according to the final number of species you report.
7. Is all the money raised being used to support Gunnison Sage-Grouse conservation?
No. 85% supports conservation while 15% of each donation will support all of CFO's activities. Registration fees from non-members support all of CFO's activities. Tips collected at the time of donation support Pledge-it.
8. The Pledge-it donation page asks for a tip. Is this required?
No. As explained on the page, the tip is optional and goes to the Pledge-it organization. Pledge-it provided this registration and pledge platform to CFO for free.
9. I am planning to compete and don't want to take extra time to enter in numerous eBird checklists, or wait for three minutes before moving to another location, as suggested in the Participant Guidelines.
OK. However, we encourage using eBird in a way that makes the data more valuable. If you feel like counting birds in one location for three minutes is interfering with your mission, consider converting the count from a stationary protocol to a traveling protocol. This permits adding additional birds along the transect you are traveling. Transects should be terminated when the habitat changes or after 5 miles, whichever comes first.
10. How do I report my results? I don't know how to create a Trip Report or a county-based checklist in eBird.
eBird has many user-friendly instructions available at eBird.org, many are listed on the CFO Learning webpage cobirds.org/improve-your-birding. If you aren't familiar with eBird Trip Reports, you can learn more on their support page on eBird Trip Reports. We also recommend you attend CFOs eBird workshop inn April. If you do not find the answer one of these ways, you may contact cobc@cobirds.org for additional assistance.
If you are unable to use eBird to organize your observations, and report your results, you may still participate in the non-competing category and the money you raise is still valuable and appreciated. However, you will be disqualified from the competition as the judges will not be able to access your documentation of rare birds.
11. I would like to participate in a county where no one else is participating. How do I determine which counties have teams registered already and which do not?
You can view this information under the "County Registration" Section of Pledgeit and on https://cobirds.org/cobc-details/
12. Can I donate by check?
Yes! Reach out to cfotreasurer@gmail.com and we will credit to your desired team or individual.
13. My question is not included in this FAQ. How do I get more answers/information?
Send an email to cobc@cobirds.org. Kerri Schlachter or Nick Komar will respond as soon as they are able by email, or by telephone if you provide a call back number.