Traverse Tompkins: Facing Floods
Local History Supported by SERVPRO of Tompkins & Tioga Counties
Facing Floods in Tompkins County!
#FaceFloods in Tompkins County this September! Past floods - and the damage they caused - offer valuable lessons as our community faces more intense and extreme weather events. Traverse Tompkins 2022 needs your help to document the shape and character of waterways in our community.
We also want to build on our miles traveled totals from 2021! Sign up to ride, walk, or bike miles as you document Tompkins County waterways. Collect cents-per-mile pledges to make sure that this historical collection will be preserved for future generations here in Tompkins County.
We're running our fundraiser through PledgeIt, but you can learn more about Facing Floods at thehistorycenter.net/traverse-tompkins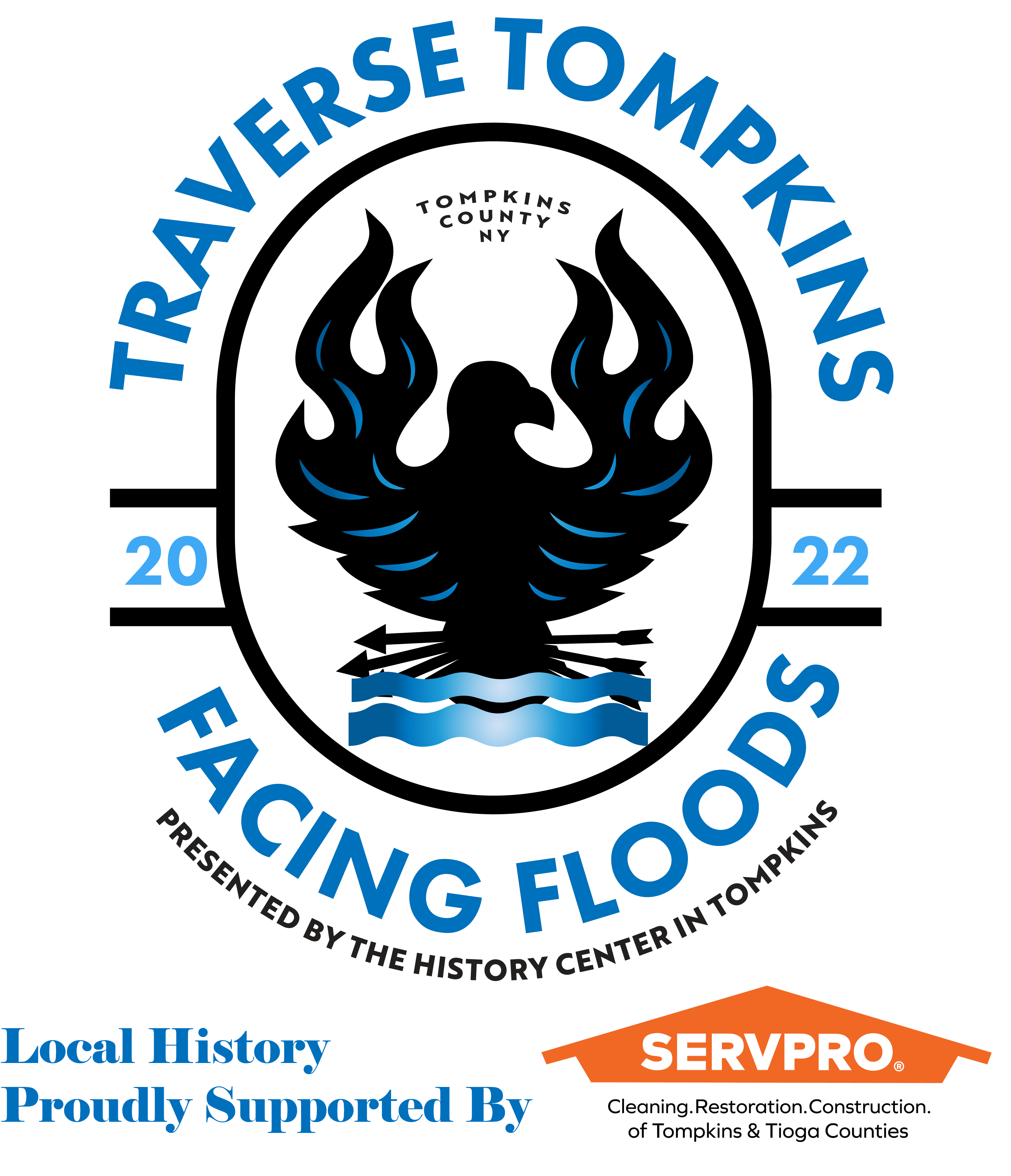 How To Participate in Facing Floods
Traverse Tompkins: Facing Floods runs from September 23rd - September 26th.
There are 2 simple ways to participate!
1. Join us as a Citizen Archivist - We need your help taking pictures of waterways across Tompkins County! Sign up is free, and your contributions will live on forever in a permanent collection in The History Center's archives.
2. Traverse Tompkins as an Explorer with your own ride/run/walk! Ask friends and family to make a cents-per-mile pledge for your own explorations. Every cent supports preserving local history - specifically, the history you create! You don' have to ride for 24 hours like our Executive Director, but you can help set a new record for collective miles traveled during Traverse Tompkins 2022.
Every Explorer receives this year's T-Shirt and provide critical support for your local history museum! How many miles can you complete (walking, running, hiking, biking) in a 24 hour period? The challenge period from September 23rd - September 26th lets you pick a 24-hour window of good weather and open schedule!
That's it! Two ways to participate, whatever your level of fitness, and whichever method of exploration you choose. We look forward to seeing you while we Traverse Tompkins!
The History of Traverse Tompkins
Traverse Tompkins started in the fall of 2020 as a unique fundraiser to support The History Center in Tompkins County during the COVID-19 pandemic. Executive Director Benjamin Sandberg biked all around the county, live streaming videos exploring historical points of interest in each municipality. His challenge was to ride as many miles as possible in a single 24-hour period. Despite high winds and a flat tire, he was able to ride a total of 175.1 miles. Almost 100 individuals made pledges of 10¢, 25¢, and $1.00, and raised over $7,000 for The History Center in a time of incredible need and uncertainty.
The community feedback to the inaugural ride was overwhelming. Folks asked how they might participate in future rides or reached out with suggestions about thematic focuses for future rides. And so, the concept of Traverse Tompkins was born. Traverse Tompkins 2021 saw a small collection of riders explore the history of Fires in Tompkins County through a series of tours visiting sites of historic fires. You can still explore these tours in Ithaca, Dryden, Trumansburg, and Tompkins County. With more riders and more pledges to preserve local history, we raised almost $12,000 as riders explored old and new parts of our home through this brand-new lens.
Donations
Anonymous donated $100 to Benjamin Sandberg
So happy to contribute to such a fine cause!
Anonymous donated $130 to Benjamin Sandberg
The odd number was bugging me, and you were so close!
Caroline Orien donated $25 to Benjamin Sandberg
Cheering you on to your goals!
Anonymous donated $150 to Benjamin Sandberg
Melinda Oakes donated $200
Keep up the good work, on and off the bike! Three cheers for our fascinating history and those who capture and share the stories.