4th Annual Ride for Justice
Delaware City Library
Everyone deserves a second chance
Four years ago, a group of local cyclists came together to honor the memory of George Floyd, by raising money to support the fight for legal justice in Delaware. We're honored and humbled that they've chosen to partner with the Delaware Center for Justice, recognizing the unique role that DCJ plays in the struggle for social justice in the First State.
Ride Description
This year's family-friendly Delaware Ride for Justice offers five routes:
5 mile "Family Ride"

10 mile "Ice Cream Ride"

28 mile "Odessa Ride"

50 mile Distance Ride

84.6 mile Flagship Ride, in memory of the final 8 minutes and 46 seconds of George Floyd's life – and in recognition of the nationwide movement for justice that emerged as a result.
All rides begin in Delaware City at the Library ( 250 5th St, Delaware City, DE 19706). These routes traverse a landscape suffused with the spirit of Delaware justice seekers. With 4 support stops, electronic GPS mapping and paper cue sheets, road markings, and ride-day support, the Ride For Justice will be a day of physical challenge, personal contemplation, and natural beauty.
5 and 10 Miles Routes
From Delaware City, riders on these family-friendly routes cruise the Mike Castle Trail along the C&D Canal. The route passes through Polktown, site of the first Free Black community in the state where Black Delawareans could legally own property. Riders may stop, visit and learn at the long-lost and recently-restored African Union Church Cemetery, where several Black soldiers who served in the US Army during the Civil War are buried.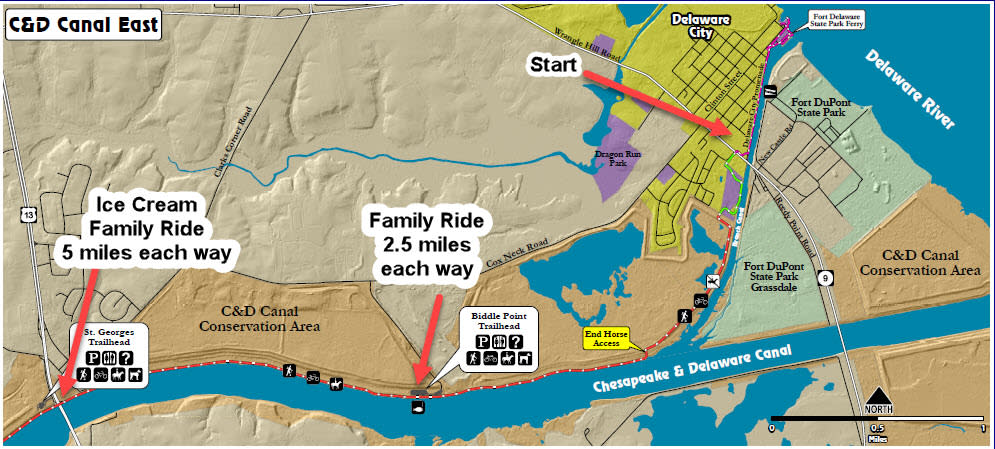 28 Mile Routes
The longer routes all follow Delaware Route 9 and the Harriet Tubman Trail, crossing the Reedy Point Bridge and continuing through the marshes and rolling fields of Kent and Sussex counties. The 28, 50 and 84.6 mile routes pause at Appoquinimink Friends Meeting House in Odessa, a hub of Underground Railroad activity. The Friends Meeting House saw Harriet Tubman, "Conductor" Samuel Burris, and Thomas Garrett, among others, risking their livelihoods, their freedom, and sometimes their lives in the quest for justice.
The 28 mile riders return from Odessa to Delaware City along Route 9.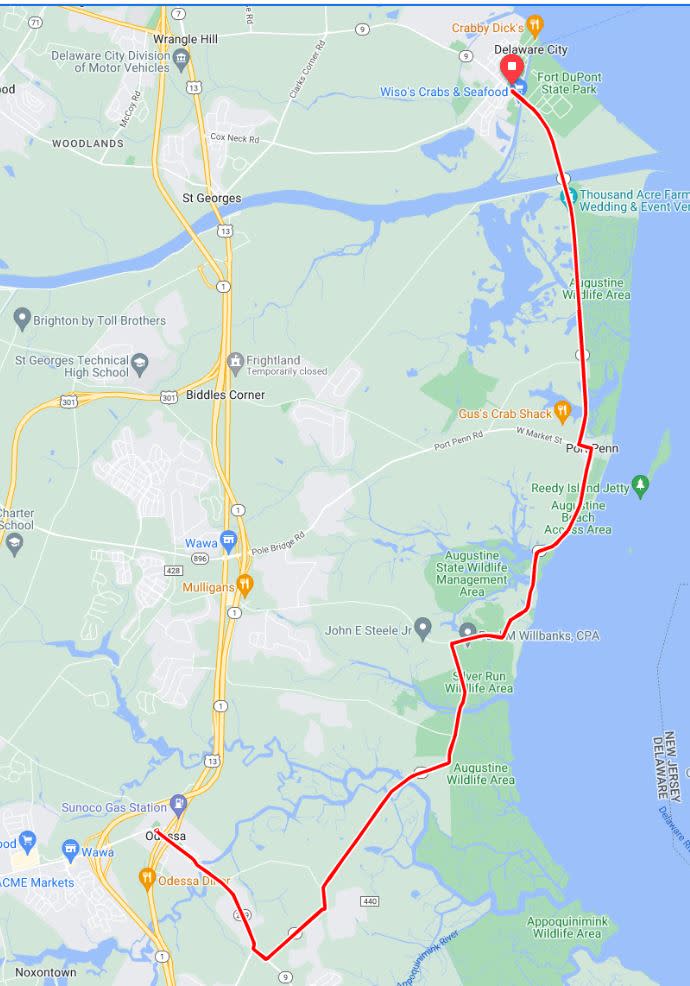 50 Mile Route
50 mile riders continue down beautiful (and easy) Route 9 east of Smyrna, stopping at the picnic tables at Woodland Beach State Wildlife Management Area. 50 mile riders then return to Delaware City back along Route 9.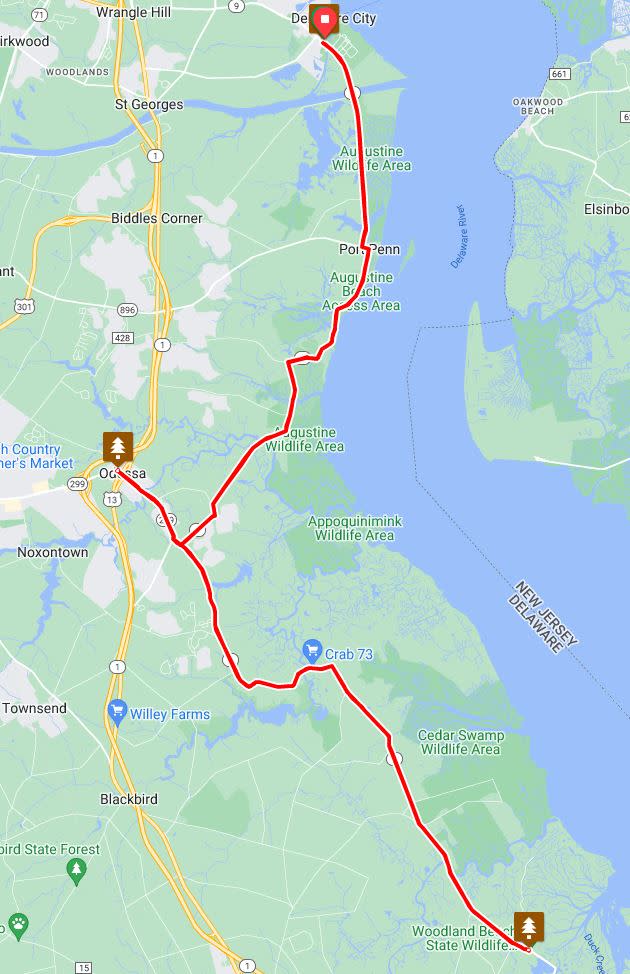 84.6 Mile Route
Cyclists riding the flagship 84.6 mile George Floyd route will continue south from Woodland Beach into Dover, taking a break across the Green from the Old State House. Here, free Black Delawarean Samuel Burris was tried and convicted in 1847 of breaking state law by "enticing slaves to escape." He was legally sentenced to fourteen years of slavery, escaping his fate only through the work of local abolitionists.
Proceeding into the woodlands of Kent County, flagship riders will return up the west side of Dover. Cyclists will break in Blackbird Forest, a landscape that Harriet Tubman traversed as she guided self-emancipators to freedom, before returning back home to Delaware City.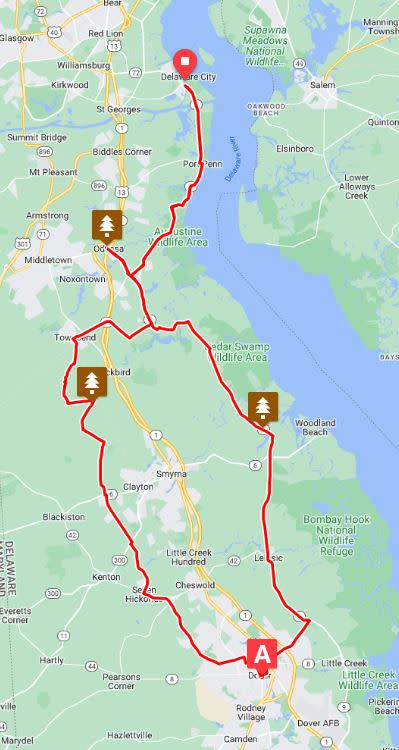 All proceeds from this event benefit the Delaware Center for Justice and its mission to listen, to amplify, and to act to seek justice for all Delawareans through advocacy and services. At DCJ, we recognize that powerful forces beyond an individual's control drive involvement with the legal system—living in poverty, being the child of an incarcerated parent, attending an underfunded school, languishing in the school-to-prison pipeline, residing in an over-policed neighborhood, or simply being Black or Brown in America. Our programs work with youth and adults across the justice system, from pre-adjudication and detention to incarceration and reentry.
DCJ is unique among nonprofits in that we've operated in both the advocacy and service spaces for over 100 years. Our policy and education work informs—and is informed by—our direct service programs.
IN THE WORDS OF SAMUEL BURRIS: "WHATEVER IS LAWFUL, OF COURSE OUGHT TO BE RIGHT, AND WHATEVER IS RIGHT IS JUSTICE."