Walk-N-Roll for Spina Bifida
Join us on May 20 or May 21 as we Walk-N-Roll for Spina Bifida! 🧑‍🦽
Walk-N-Roll With Us!
Join the Spina Bifida Association of Greater New England for the annual Walk-N-Roll for Spina Bifida!
Please join us for one of our three Walk-N-Roll options this year:
1. Saturday, May 20, 2023, 11 am - 2 pm: Pappas Rehabilitation Hospital for Children, 3 Randolph Street, Canton, MA
2. Sunday, May 21, 2023, 11 am - 2 pm: Great Island Commons, 301 Wentworth Road, New Castle, NH
3. Walk-N-Roll at Home! May 13, 2023 - May 21, 2023: Your Neighborhood!
You can start fundraising as soon as you complete your registration!
Sign up as a team leader and raise funds for SBAGNE programming in your own neighborhood, family, or friend circle. By April 1, raise $100 as an individual participant, or $250 as a team to be guaranteed the 2023 Walk-N-Roll tshirt!
You can also participate virtually by walking or rolling in your neighborhood to raise awareness for Spina Bifida. Virtual participants are still eligible for our fundraising contests, and prizes and to receive our Walk-N-Roll T-Shirt.
Ready to get started? Watch our Registration Tutorial!!
Fundraising Prizes & Incentives
To help you reach for your fundraising goals, we've assembled a collection of prizes. With the exception of the Walk-N-Roll t-shirts, prizes are not cumulative.
$100: Walk-N-Roll T-Shirt for the Team Captain

$250: Walk-N-Roll T-Shirts for Your Whole Team

$500: Amazon Gift Card for $25

$1000: SBAGNE Beach Bag

$2500: SBAGNE Sweatshirt with Spine Artwork

$5000: SBAGNE Fleece Jacket with Spine Art

The top 3 teams from each location will get their team names on the back of the 2024 Walk-N-Roll tshirts!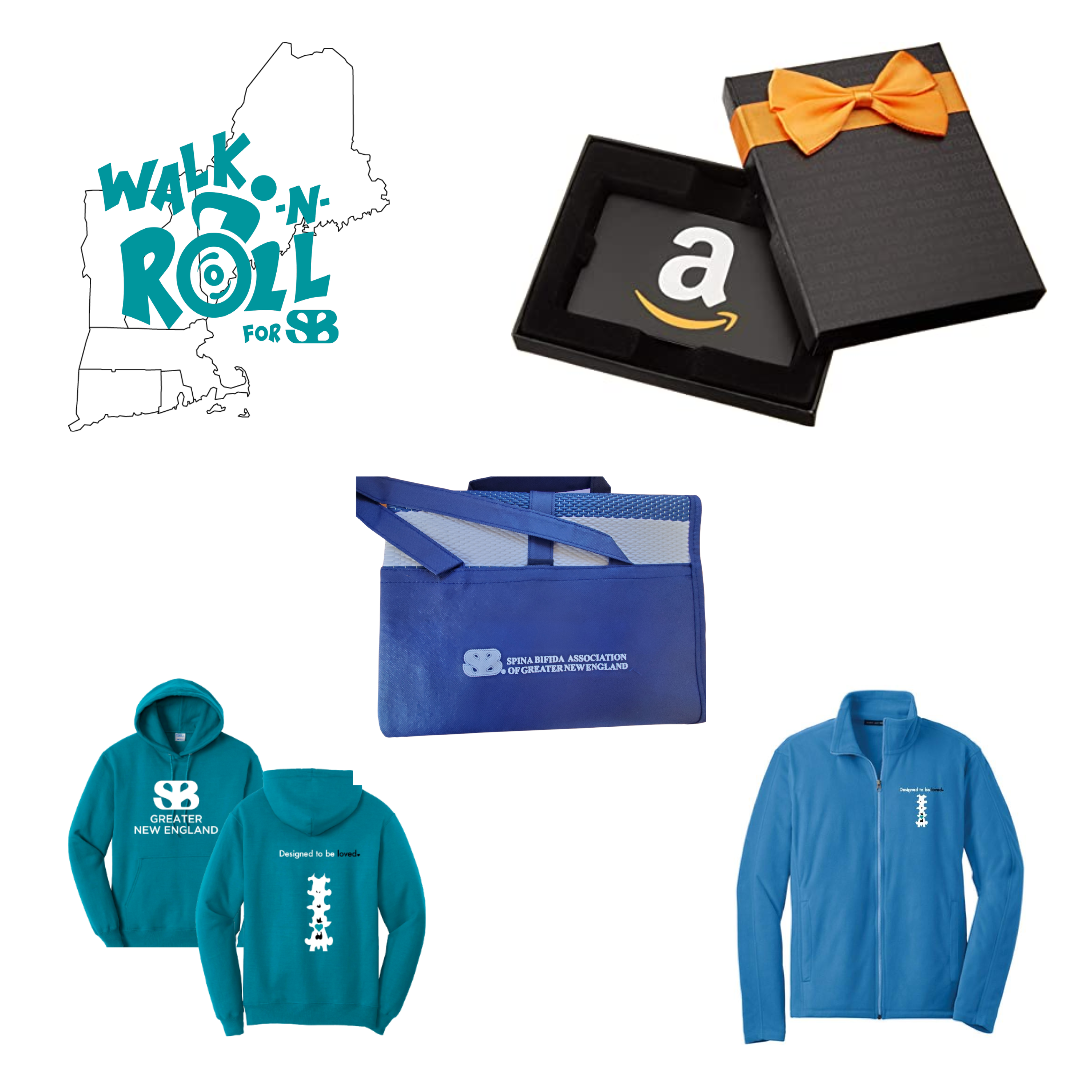 How to Fundraise
Everyone has their favorite way to fundraise. For some people, directly contacting friends and family is a tried and true method. Others prefer to hold fundraisers through their social media outlets and some enjoy the "give a little, get a little" style of fundraising that comes with bake sales. There is no wrong way to fundraise. Just do what works best for you and your network.
Some techniques that have worked for past Walk-N-Roll teams include:
emailing, calling, chatting with friends, family, or co-workers,

holding a Facebook fundraiser or similar through social media,

holding a bake sale, car wash, or neighborhood event.

hosting a fundraising event for friends and family like a pizza party, barbecue, or wine night,

talking to people in your community about why SBAGNE is important to you,

working with a local business on a small fundraiser (ex. a spin or yoga class, paint night, or wine tasting)

working with a restaurant to donate a portion of sales during set hours (ex. Panera, Hot Press Panini, Chipotle)

More suggestions are available in our google fundraising folder:

https://drive.google.com/drive/folders/1PGrG3DtIjbxYNR3tEH9n7Evq15USDhI8?usp=share_link

Please contact us for help with additional suggestions!
How to Give Without Spending
Living with a disability is expensive and cost should never prohibit someone from participating in all aspects of the SBAGNE community. That's why we are exploring new ways to support our fundraisers without having to spend money or make a donation.
For the last couple years, we have been working with HundredX Causes to host Feedback For Good campaigns which allow you to provide feedback on a wide range of products, services, and establishments in exchange for donations made to SBAGNE on your behalf. HundredX Causes will donate $2 to SBAGNE for every survey you take up to 75 surveys. That's $150! Each survey takes approximately 1 minute to complete.
Our Feedback For Good link is: https://sbagreaterne.org/event-calendar/feedback-for-good/ The deadline is April 4, 2023. If you participate, please email Jean Bertschmann at JBertschmann@SBAGreaterNE.org to have your Feedback for Good totals added to your Walk-N-Roll fundraising totals.
Anyone and everyone can participate. The more people you invite to participate in this program, the more money you generate for SBAGNE programs without spending any money yourself!
Donations
Libby Donovan donated $50 to Sarah Haywood
Patricia Bouchard donated $25 to Patricia Bouchard
austin maynes donated $20 to Alex Danahy
So proud of you- your brother
Marty Williamson donated $50 to Lena Williamson
Sydney Reich donated $50 to Lena Williamson