100 Mile Challenge for Spina Bifida
Join us April 2nd - May 14th for a 6-week 100 Mile Challenge!
Your Wellness Your Way
The 100 Mile Challenge is a wellness program designed to help YOU reach YOUR wellness goals. YOU are encouraged to choose activities that collect "miles" and align with YOUR goals with YOUR big goal of 100 miles of activity over 6 weeks.
What are the activities? YOU choose!
Walk, roll, read a book, bike, do yoga, hike, fitness class, drink water, lift weights, run, eat vegetables, sleep 8 hours, meditate, wheelchair basketball, adaptive tennis, participate in virtual Education Day sessions, etc.
How do I get 100 miles?
Each activity counts for one mile. If you do three activities a day you'll easily reach 100 miles in 6 weeks. For example, here's what one day might look like:
Walk/roll for one mile for exercise = 1 mile
Drink recommended daily amount of water = 1 mile
Eat 5 servings of fruit and veggies = 1 mile
Meditate for 15 minutes on everything that you are grateful for today = 1 mile
You'll get help along the way with the opportunity to tune into virtual classes, events, and speakers.
Connect with participants around the country who are participating to get encouragement and ideas for YOUR wellness! Encourage YOUR friends and family to join the challenge--there's power in numbers!
Encourage YOUR friends and family to support your challenge with a pledge to YOUR wellness challenge and YOUR Spina Bifida chapter - Spina Bifida Association of North Texas!
How Do I Sign Up?
How Do I Sign Up?
1. Register to join the campaign and pledge to go 100 miles and raise or donate $100 for your participation!
2. Ask your family and friends to ALSO go 100 miles and raise $100. Ask everyone you know!
How can I raise $100?
Set up your page and email it to your friends and family!
A default page is already set up for you, but add your own photo and story!
EXAMPLE - Ask at least 10 people to sponsor you for 10 miles at $1 per mile--you get the idea? Easy!
OUR GOAL - 100 people go 100 miles and raise $100 each for Spina Bifida!
EVERYONE can participate! Ask your friends and family to go 100 miles too!
What's in it for me?!
Better health!
Weekly programs to help you get there!
Encouragement!
Connect with your chapter's participants and other participants across the country.
Form a team and reach your goals together!
Gear and PRIZES
Register and get a sticker
Go 100 miles and get a t-shirt to show your friends that you did it!
Drawing for prizes for EVERYONE who goes 100 miles and raises $100!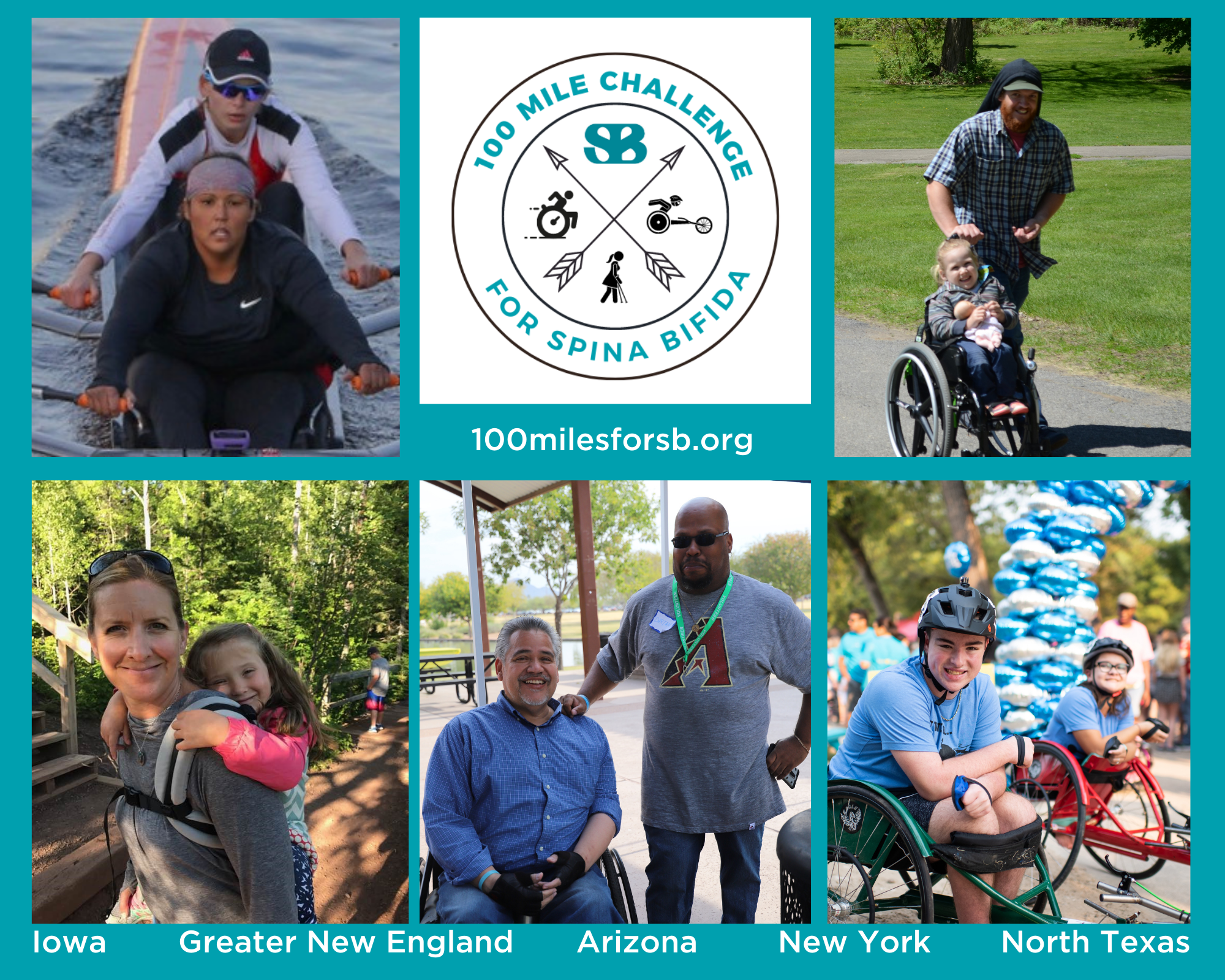 Donations
Blaine Lee donated $100 to Robin Lee
Kim Tay donated $25 to Howard Hong
Paula Lagrone donated $50 to Howard Hong
Great job Howard!
Anonymous donated $25 to Howard Hong
Dondi Shelman donated $50 to Howard Hong