13th Annual Walk-N-Roll for Spina Bifida, Presented by Byram Healthcare
Join us on May 13th or May 21st for our annual Walk-N-Roll events!
Walk-N-Roll With Us!
Help us raise $30,000 for SBANYS 30 Years of Service at this year's Walk-N-Roll for Spina Bifida presented by Byram Healthcare!
The SBANYS Walk-N-Roll for Spina Bifida presented by Byram Healthcare is back for 2023, this time with two locations and dates to choose from! The Walk-N-Roll for Spina Bifida® is a family-friendly one-mile walk event that raises critical funds, increases awareness of Spina Bifida, and celebrates the accomplishments of the near 200,000 Americans living with Spina Bifida. All proceeds are used for programs and services for people with Spina Bifida and their families.
How to participate!
Join us on either date or walk virtually on your own during this week of action for Spina Bifida!
🧑‍🦽 Saturday, May 13 at Eisenhower Park in East Meadow, NY from 10am-2pm
🧑‍🦽 Saturday, May 20 at Waryas Park in Poughkeepsie, NY from 9am-11am
👩‍🦼Sunday, May 21 at Central Park in Schenectady, NY from 10am-2pm
Individuals living with Spina Bifida, families, and friends of the Spina Bifida community can join us for these events, which include sponsor and vendor tables, raffles, a picnic or food trucks, family games, contests, prizes, and merchandise.
We are also looking for volunteers to assist with the day of the event! Please contact admin@sbanys.org if you are interested in volunteering!
View our Registration Tutorial
What can you expect at the event?!
Picnic:
Eisenhower Park: Dunkin Donuts and barbecue cookout by Williston Park Rotary
Central Park: Manhattan Bagel & Bistro, Kane's Hot Dogs Food Truck, Stewart's Ice Cream
Contests & Prizes:
Contest cut-off is the end of business day the day before the event
Team Spirit: kick off the Walk-N-Roll with the event banner
Individual who raises the most money: pie your event chair (Joe Slaninka or Heather Horwedel) in the face!
The team who raises the most money: have your team sign featured on the walk and roll path the following year
Fundraising Incentives:
$100 T-Shirt
Keep an eye out, there is more to come!
Both events will have music, raffles, vendors, sponsors, and family-friendly activities!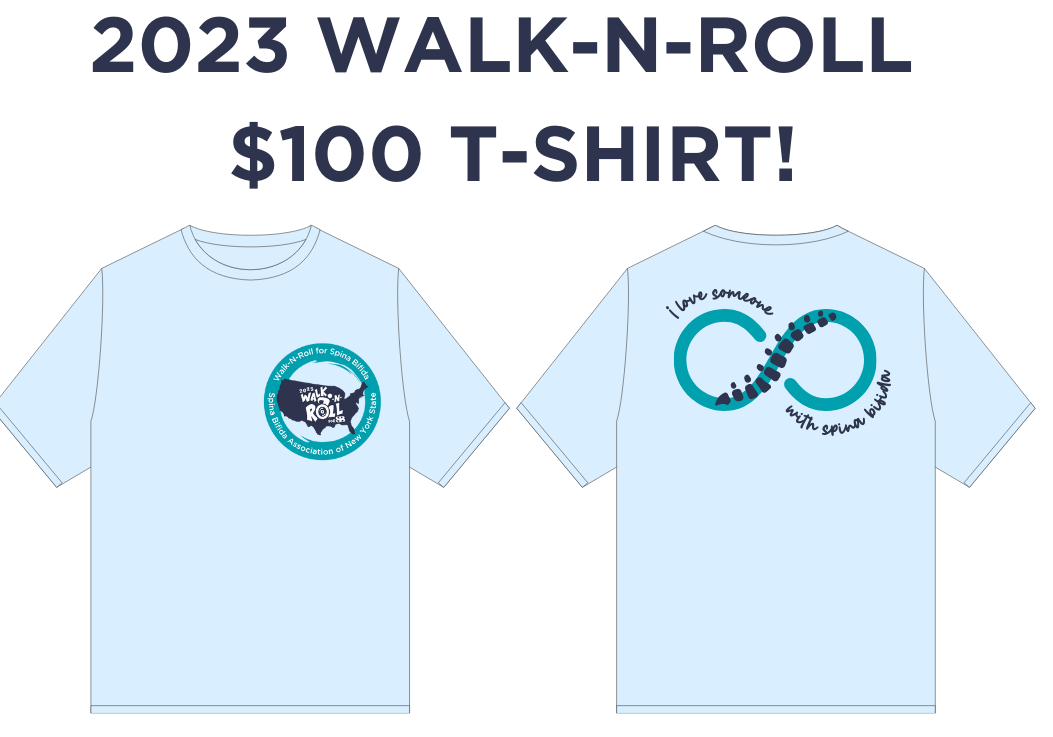 WALK YOUR WAY & HOT SPOTS!
We understand traveling to Schenectady or East Meadow, NY is not feasible for all interested Walk-N-Roll participants. Therefore, we have implemented the "Walk Your Way" ticket and "Hot Spots" or locations for virtual participants to visit and connect with other local families participating.
Walk Your Way: You can participate virtually by walking or rolling in your neighborhood to raise awareness for Spina Bifida. Virtual participants are still eligible for our fundraising contests, and prizes and to receive our Walk-N-Roll T-Shirt.
Hot Spots:
Participants can request to be an ambassador for a hot spot location by emailing admin@sbanys.org

A mutually agreed upon location will be added to the "hot spot" list and shared with our virtual attendees

On a selected day between 5/13/23-5/21/23, attendees can visit their "hot spot" location and complete their own Walk-N-Roll
To learn more, email admin@sbanys.org or call 518-399-9151
Sign up to be a not-for-profit vendor!
Nonprofit vendors are invited to join us for free at either or both of these events. If you are interested in joining us, you can attend with information about your programs and services and we will provide a table, two chairs, and the opportunity to connect with over 150 guests!
Thank you to our event sponsors!