Screen Your Gut - Save Your Butt 5k Challenge
Join us in San Diego to raise awareness about colorectal cancer and to promote prevention and early detection of colorectal cancer. #C4Screen2PreventCRC
C4 5K Run to Defeat Colorectal Cancer
The California Colorectal Cancer Coalition (C4) is a nonprofit organization made up of a diverse group of dedicated individuals from throughout California whose mission is to save lives and reduce suffering from colorectal cancer in all Californians.
Funds raised through the "Screen Your Gut - Save Your Butt" run will be used for the C4 Community Grants Program that aims to increase screening to prevent colorectal cancer development and detect existing cancers earlier when the outcomes are more favorable for patients.
Race Location & Time of Event
Please join us at Mission Bay for the inaugural C4 5k run! Dogs are welcome to join us, assuming you will begin at the back of the pack and that they are well mannered. The City of San Diego requires that all dogs be off the race venue by 10am.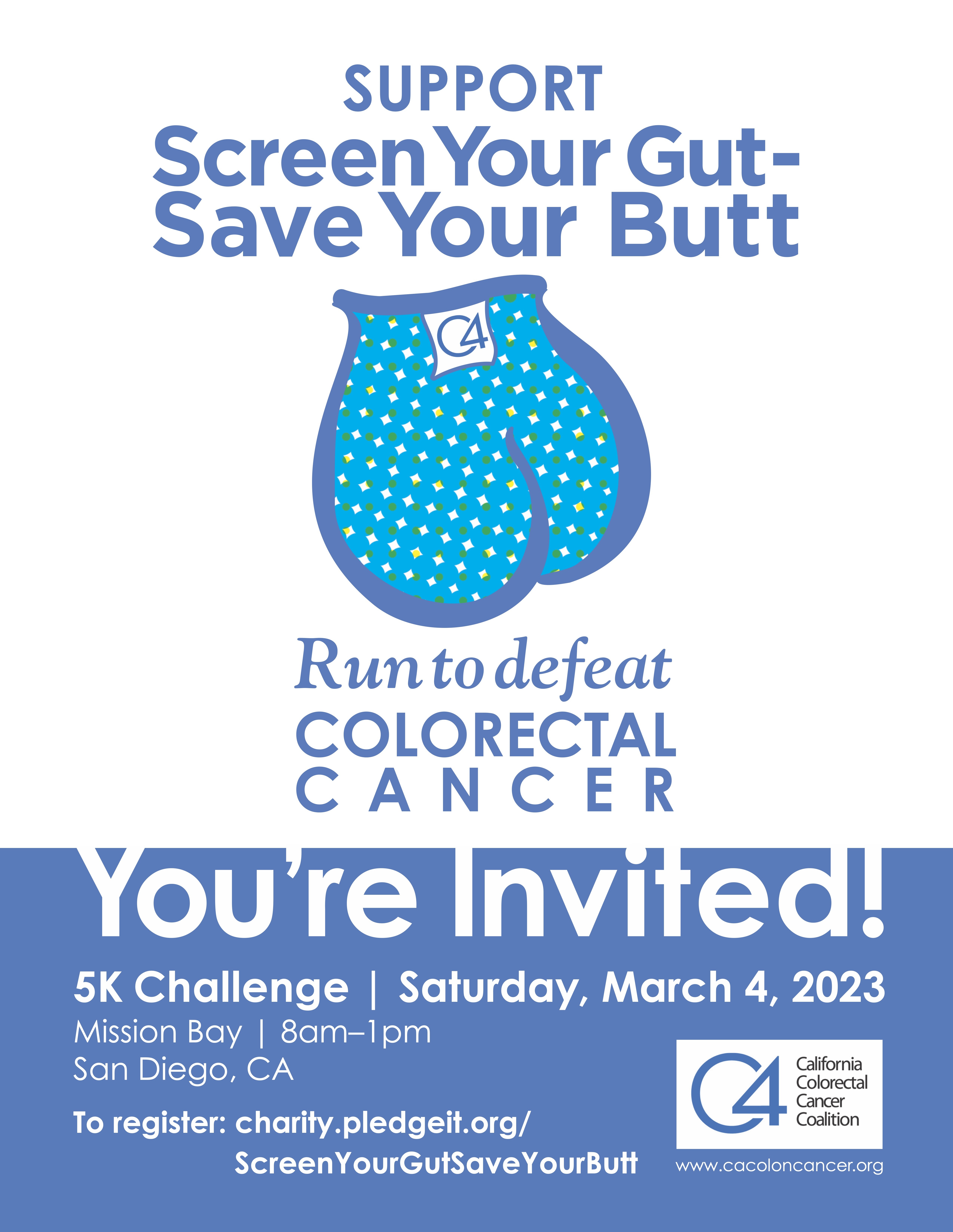 Information About Starting a Team
If you are planning on forming a team to participate, follow these steps:
1) Click on Registration
2) Select the race you want to enter
3) Enter the requested information and Add Ticket
4) The system will then ask you whether you want to join an existing team, register as an individual, or form your own team.
5) You then have the option of just completing the registration or adding additional team members. Each registration is added to your cart to pay. Once you complete the payment, you will receive an email confirmation.
Donations
Carroll Jean Anderson donated $9.27 to Carroll Jean Anderson
Daniel Anderson donated $250 to Kaiser Colon Crusaders
Daniel Anderson donated $109.27
Daniel Anderson donated $1,000 to Daniel Anderson
Margaret Hitchcock donated $25 to Maggie's Marauders
I am Vice President of C4 and know how hard everyone works in this nonprofit to promote access to care, starting with screening for colorectal cancer, for ALL Californians. We are an all-volunteer organization and the vast majority of our incoming funds go towards our C4 Community Grants Program. In full disclosure, I administer that program but do not get paid to do so.