2,130 total bird species counted
Seattle Audubon Birdathon 2023
The most fun you will have FUNdraising, and it's all for the birds!
Count Birds to Save Birds
Your support of Birdathon, as a donor or fundraiser, directly supports Seattle Audubon's mission to advocate and organize for cities where people and birds thrive. Your financial resources fuel our urban conservation, community science, environmental education, and outreach programs.
Birdathon success has a simple formula: Gather gifts and pledges --> Count species --> Make our community safer for birds through local conservation initiatives. We welcome your participation!
Every Dollar Makes a Difference for Birds
Community Science
Your donations can help fund community science, including the expansion our Climate Watch program to monitor the presence of climate change indicator species, like the Red-breasted Nuthatch, within our service area.

Count Birds Your Favorite Way
This year, we've added a few new options for participants to count birds. Find the way that suits your needs:
Big Day - 24 hours of counting fun anywhere in Washington State

Single Habitat - up to 4 hours in a single habitat or green space

Outside Observer - all Birdathon long (May 13 - 31) at your home, yard, or balcony
Fundraising Resources
Seattle Audubon's annual Birdathon raises more than $20,000 to fuel our mission. These donations provide resources like supplies for community science surveys, guest speakers to meet with our teen Young Birders, and workshops on preventing bird-window collisions, just to name a few.
Let us help you get the most out of your Birdathon fundraiser so you can raise more funds in support of birds. Visit our Fundraising Resources folder for sample emails, who to contact, and how to set up your fundraising page.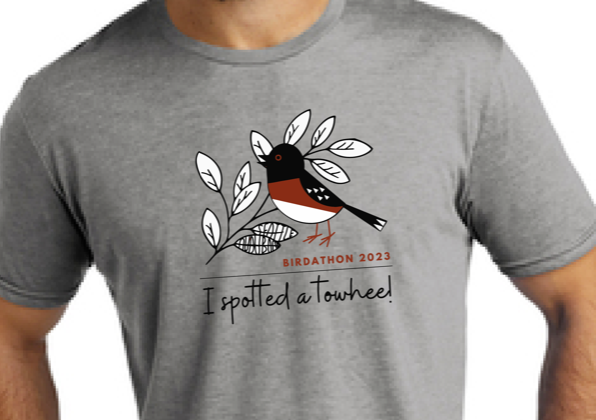 Participant Prizes
We are so grateful to all of our participants who have made the commitment to birds through their participation and fundraising for Birdathon. Thank you!
For participants who raise $50 or more, we have our special 2023 Birdathon t-shirt.
We also have a number of other prizes for teams and individuals to celebrate their outstanding fundraising efforts.