Napa Valley Vine Trail Month of Movement Challenge
Join us in May 2022 for a month-long fitness and fundraising challenge. Together, we can positively impact the climate, health, safety, and transportation of residents and tourists alike. Sign up as an individual or as part of a team to walk, run or ride.
$189,606Raised of $400,000
Your support will connect our communities by providing a safe and healthy opportunity for transportation and recreation.
Since 2008, the Napa Valley Vine Trail Coalition has spearheaded the fundraising, construction and maintenance of a planned 47-mile biking and walking trail from the Vallejo Ferry Terminal to Calistoga, CA. Our annual fundraiser, LOCO-MOTION, is dedicated to creating an interactive virtual, fitness and fundraising challenge for both individuals and teams. The Month of Movement is our way to get more people outdoors (anywhere) and celebrate their support for our trail-building mission.
Walk, Run, Ride Group Meet-ups
Remember! You can log miles from wherever you are ... California, North Carolina, Illinois, Canada, Australia, Spain, England—you get the idea. But for folks in the Napa area, we're hosting a series of free in-person walks, runs, and rides. Come to one or come to all. Make new friends and find new outdoor adventures.
Sunday May 29 - EAGLE CYCLING CLUB - Ride (tbd)
Get Started
Walk, hike, run, ride ... or mix it up with multiple activities! Pledge your miles or fundraising goals (or both) individually or as part of a team. Virtual badges and real prizes will be awarded in a variety of categories along the way!
Fundraising can begin at any time, but our Fitness Challenge begins May 1st.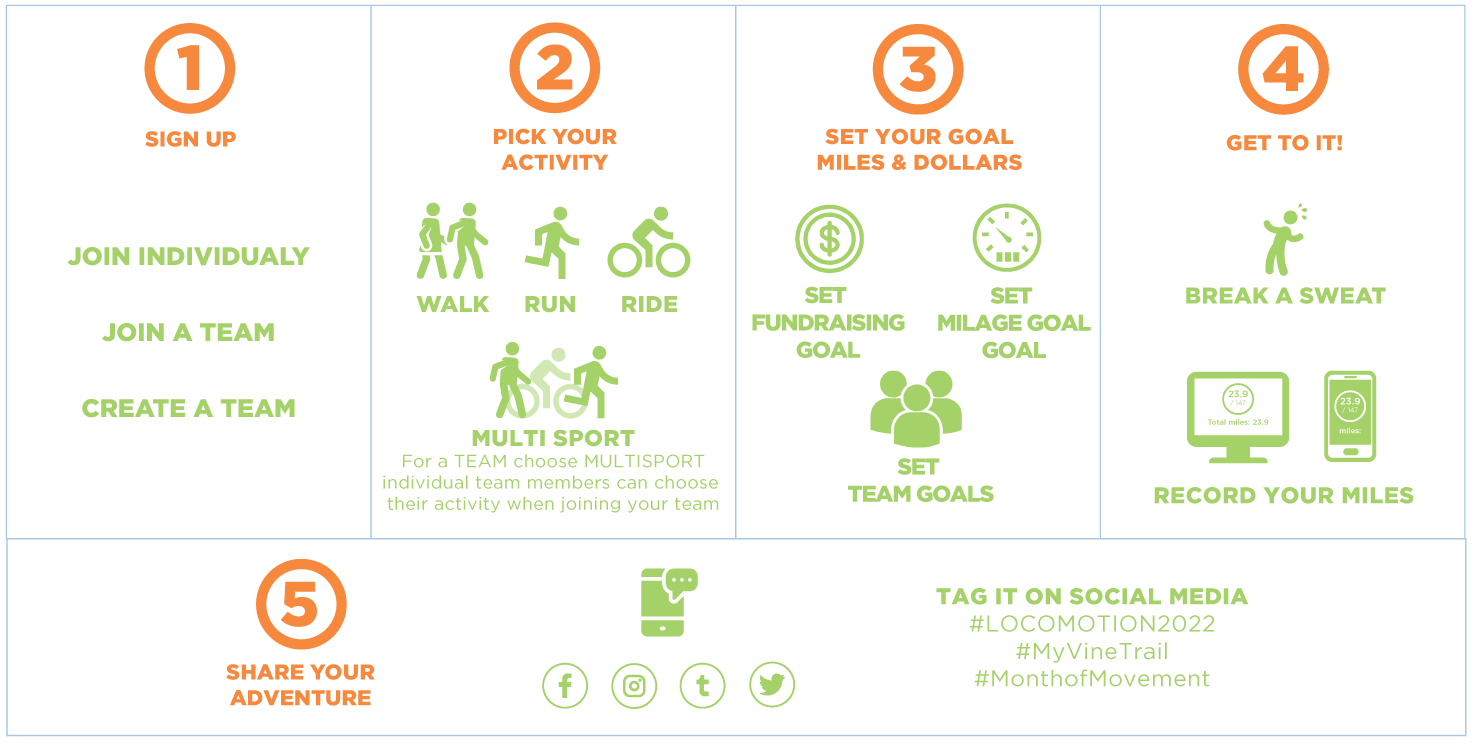 Every Dollar Makes a Difference
Sticker Your Support.
Who doesn't love a good sticker? Wear your VINE TRAIL sticker proudly as a statement of support for building a world-class family-friendly, dog-friendly, everyone-friendly walking, running, and cycling path.
Donations
Adam Tidd donated $40 to Christine Mercnik
GO BDB GO!
Anonymous donated $75 to Andrew Shaheen
Karen Roche pledged $1 per mile (est $200) to Christine Mercnik
Go get 'em Christine
Anonymous donated $100 to Mark Smithers
Anonymous donated $100 to Christine Mercnik
THANK YOU TO OUR 2022 SPONSORS!