Napa Valley Vine Trail Month of Movement Challenge
Join us in May 2023 for a month-long fitness and fundraising challenge. Together, we can positively impact the climate, health, safety, and transportation of residents and tourists alike. Sign up as an individual or as part of a team to walk, run or ride.
$64,815Raised of $500,000
Your support will connect our communities by providing a safe and healthy opportunity for transportation and recreation.
Since 2008, the Napa Valley Vine Trail Coalition has spearheaded the fundraising, construction and maintenance of a planned 47-mile biking and walking trail from the Vallejo Ferry Terminal to Calistoga, CA. Our annual fundraiser, LOCO-MOTION, is dedicated to creating an interactive virtual, fitness and fundraising challenge for both individuals and teams. The Month of Movement is our way to get more people outdoors (anywhere) and celebrate their support for our trail-building mission.
Get Started
Walk, hike, run, ride ... or mix it up with multiple activities! Pledge your miles or fundraising goals (or both) individually or as part of a team. Virtual badges and real prizes will be awarded in a variety of categories along the way!
Fundraising can begin at any time, but our Fitness Challenge begins May 1st.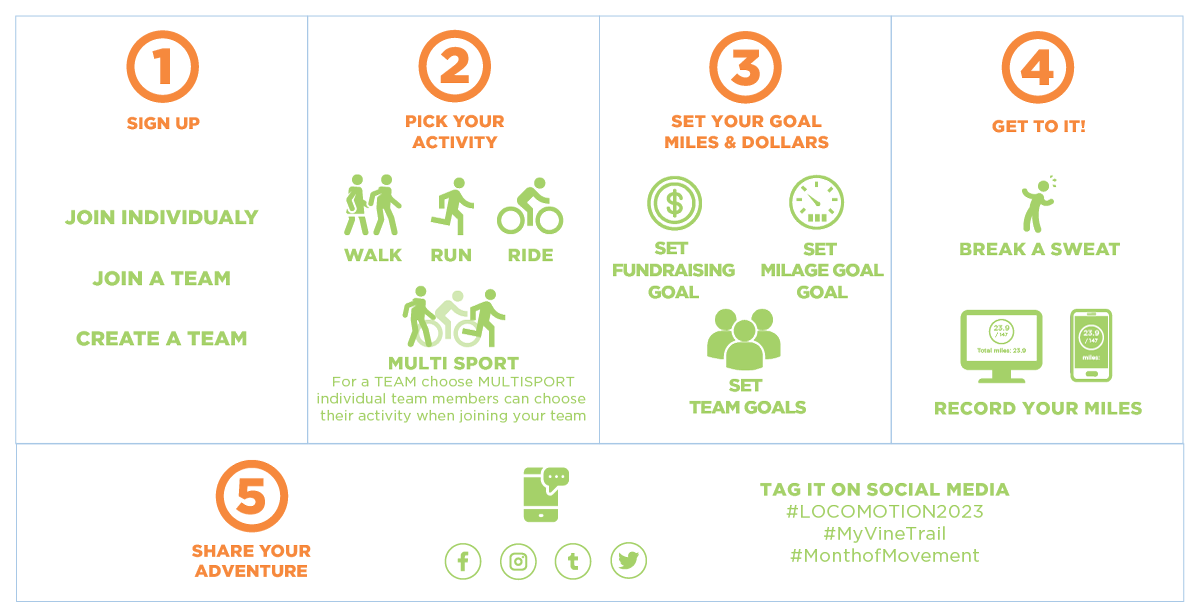 Every Dollar Makes a Difference
Fun In A Fandana!
Perfect to wear while enjoying the VINE TRAIL! This fandana features a tubular design which can be used as a bandana, neck gaiter, headband, beanie, scarf, face covering or head covering.
Donations
Sandy Houck donated $100 to Connie Stueland
Darlene Scott donated $53 to Darlene Scott
Cindy Niksa donated $25 to Jonathan Niksa
Dario Sattui donated $2,500 to Castello di Amorosa
Debra Avanche donated $50 to Pam Smithers
THANK YOU TO OUR 2023 SPONSORS!