Walk-N-Roll for Spina Bifida!
Join the WNR campaign now and come to the WNR event on October 2, 2022
Your participation makes a BIG difference! Why?
You are directly supporting individuals and families impacted by Spina Bifida in Iowa when you support Walk-N-Roll.
Walk-N-Roll the primary fundraising campaign for the Spina Bifida Association of Iowa and keeps us rolling!
WNR supports GAP (our financial assistance and scholarship programs), Education Day, support groups, Camp So Bright, New Parent Program and more! Scroll down to learn more!
Ready to Walk-N-Roll? Here are 4 Ways to Participate!
1. SIGN UP YOUR TEAM
Creating or joining a team is how you raise funds! Even individuals sign up as a team because your donors are also your team members! It's easy and it can be fun to reach out and tell your story about WHY you Walk-N-Roll! There are lots of ways to raise funds (see tips below)!
WATCH VIDEO FOR TIPS ON CREATING A TEAM (and more tips below!)
2. DONATE TO A TEAM OR TO WNR
Click Make a Donation button to select how you would like to show your support. Registered teams will be listed.
Support a Team by Making a Donation
3. BECOME A CORPORATE/BUSINESS SPONSOR
The STAR sponsor levels are listed below. We invite you to sponsor a team or the Walk-N-Roll event. We'll also add your logo to this page, our web site and more!
4. THEN WHAT?
Come to the Walk-N-Roll event and IowAbility Fair on October 1-2 in Des Moines! Walk and celebrate with the Spina Bifida community, have fun, make new friends and participate in adapted sports and recreation activities! We will be celebrating YOU as one of our brightest stars!
Team Incentives
Top Teams and Individuals will be awarded at Walk-N-Roll on October 2. For all teams who raise over $500 their team captain will get a thank you gift--either a Casey's gift card or a movie card.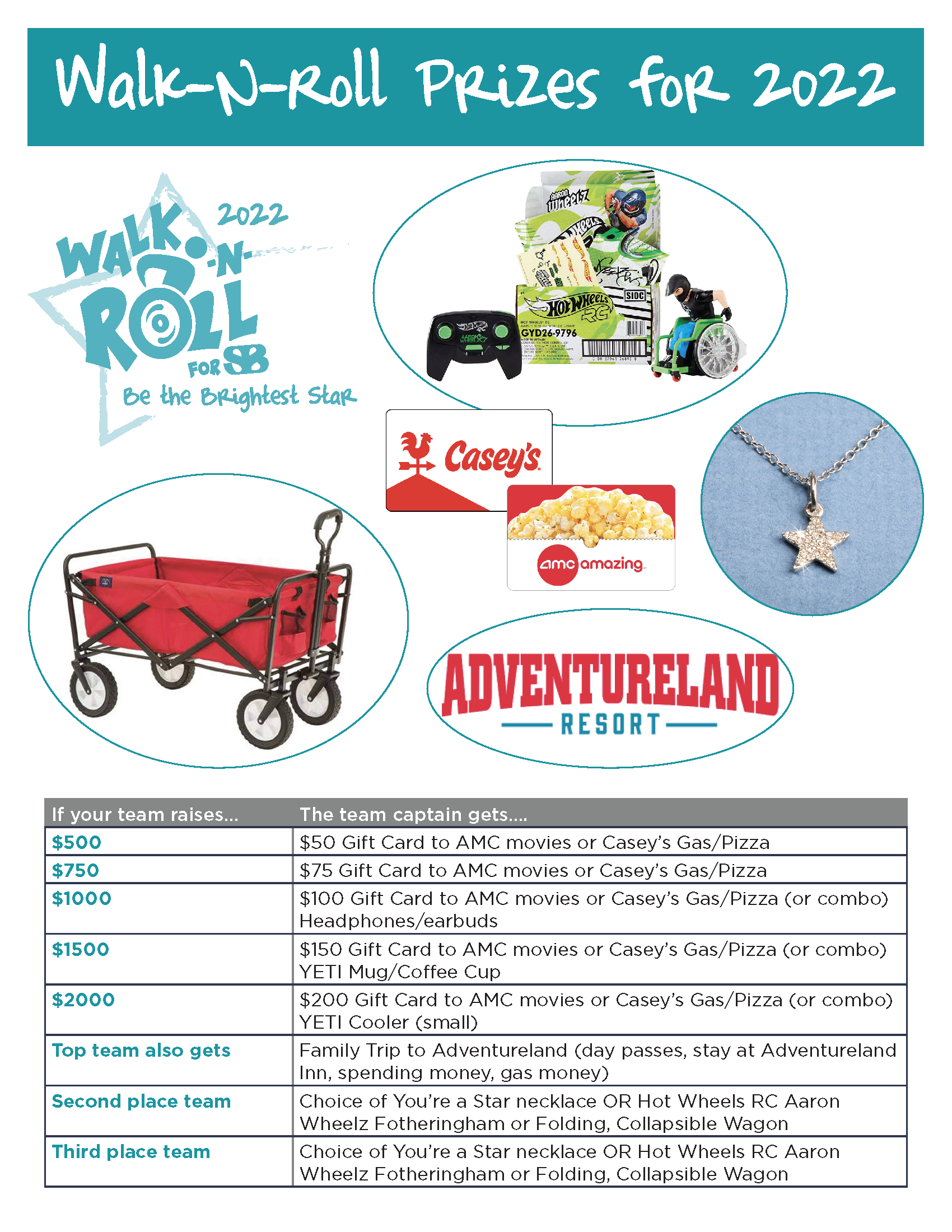 How to Raise Funds and Fun!
Everyone has their favorite way to fundraise. For some people, directly contacting friends and family is a tried and true method. Others prefer to hold fundraisers through their social media outlets and some enjoy the "give a little, get a little" style of fundraising that comes with bake sales. There is no wrong way to fundraise. Just do what works best for you and your network.
Some techniques that have worked for past Walk-N-Roll teams include:
emailing friends, family, and co-workers - use your page link!

holding a Facebook fundraiser--it's easy!

asking local businesses to support your team (see info below)

having a event -- one of our teams has an annual

Cruisin' for a Cause

car show and another team has a Spa Day!

other ideas include -- bake sale, jewelry sale, pizza party, barbecue, or wine night with painting or pottery

working with a restaurant to donate a portion of sales during set hours such as Perkins (see flyer), Panera, Pizza Ranch, & Chipotle

talking to people in your community about why supporting the Spina Bifida Association SBA is important to you,

sharing a skill you have with others (ex. hosting a spin class, teaching an informal paint night, or playing music)

collaborating with a local professional willing to donate time and talent (ex. Zumba instructor or local musician)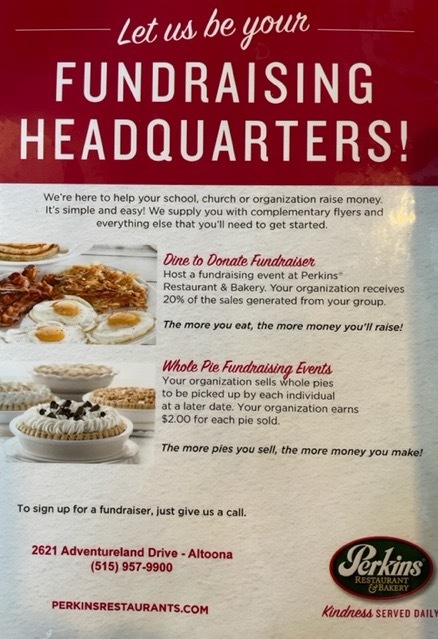 Ready to Start Your Team? Here's how:
Watch this 2 minute video about how to set up your team
Click on the Join Our Walk-N-Roll Campaign

Click on Create a Team

Get your picture or the person with Spina Bifida whom you are supporting. Be ready to upload.

Get your short story ready for your page - why do you Walk-N-Roll and why do you support the SBA of Iowa.

Get your team page photo ready. This can be the same picture as you uploaded or one of a previous year's team or whatever represents your team and mission!

Next you will set up your team captain page. It can be the same as your team page or different. Add more photos if you like or a video!

You're set--you can start emailing your friends and family right now to join your team! It's that easy!
Become a Corporate Sponsor
Gold Star Sponsor!
Gold Star Sponsor! $3,000 • As presenting sponsor your logo will be displayed wherever the WNR logo is displayed throught the eight week campaign and beyond—including prominently on our web site and fundraising page. It will be in all emailed newsletters and in social media posts from receipt of pledge through end of the 2022. • Unlimited banners can be prominently displayed at the events of Oct. 1-2 • Table at events of Oct. 1-2 • Opportunity to make a presentation at events of Oct. 1-2 • Opportunity to take over our Instagram account for one week • Opportunity to provide educational programming in person or online
Thank you Donors and Supporters!
Matthew and Michelle Starman donated $20 to Cassey Neumann
Markus G. Neumann donated $20 to Cassey Neumann
Faith Wilson-Kolo donated $100
Puravida Fundraiser donated $300 to Brooklyn Dane
Where does the money go?