2023 Aiken Buddy Walk
2023 Aiken Buddy Walk® Join us for the 2023 Aiken Buddy Walk® at the University of South Carolina Aiken Quad. Check-in and fun family activities begin at 12:30pm, Opening Ceremony at 2:00pm, and Walk following. Scroll down for more details!
About Us
Upside of Downs of Aiken is a 501(c)3 nonprofit organization formed in 2010. We are a group of parents, siblings, relatives, friends, educators, and medical professionals who have banded together to gather and share knowledge to assist our families and our community.
We hope to work together to educate the public about Down syndrome, and to celebrate what individuals with Down syndrome can accomplish.
We are affiliates of the National Down Syndrome Society and the National Down Syndrome Congress.
If you are a new parent of a child with Down syndrome, new to the CSRA, or want additional information about Upside of Downs of Aiken please call us at 803-646-4043 or contact us at info@aikenupsidedowns.org.
Buddy Walk Still Happening
While the weather forecast is not ideal, we are still planning to host the Buddy Walk today.
About the Buddy Walk®
The Buddy Walk® began in 1995 with 17 walks across the nation. Since that time it has been the premier advocacy event for Down syndrome in the United States. It is also the world's most widely recognized public awareness program for the Down syndrome community. The Buddy Walk® attracts thousands of participants worldwide each year.
In 2008 the first Buddy Walk was held in Aiken. The pandemic derailed the Buddy Walk® and Upside of Downs of Aiken programing. We have restarted group programing, and today marks our first in-person Buddy Walk® since 2019.
A day of inspiration and celebration, the walk brings together the Down syndrome community all while raising funds to support the mission of the National Down Syndrome Society and the Upside of Downs of Aiken. We hope you will join us for a fun and heart-warming day promoting awareness, acceptance and inclusion of people with Down syndrome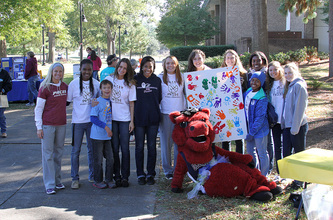 Registering For the Aiken Buddy Walk
All participants attending the Aiken Buddy Walk must be registered and accept the terms and conditions of the waiver. This helps our team get an accurate headcount for the event. Click on the "Join" button above to sign up yourself and any family or friends that will be joining you.
Each team member can decide if they wish to fundraise or not. While every donation goes toward local and national programing, we recognize for some that the fundraising element can be daunting. We want everyone to feel welcome to participate in spreading awareness and having fun on September 17th by walking with their team!
Click on the "How Do I Register" tab at the top of the page to view step-by-step registration instructions.
Important Dates
Aiken Buddy Walk Important Dates
August 22
Buddy Walk Meeting

6:00pm

7 Julie Ann Ct Aiken, SC 29801
August 24
Last day for individuals with Down syndrome to register to receive their names on the back of the t-shirt
August 25
Last day for sponsors to complete sponsor form to have logo/name on t-shirt back

Last day to order a t-shirt
September 17
Buddy Walk

Registration at 12:30pm

Opening ceremony/Walk 2:00pm

Last day to register