Girl Scouts of Southern Arizona • Thin Mint Sprint 2023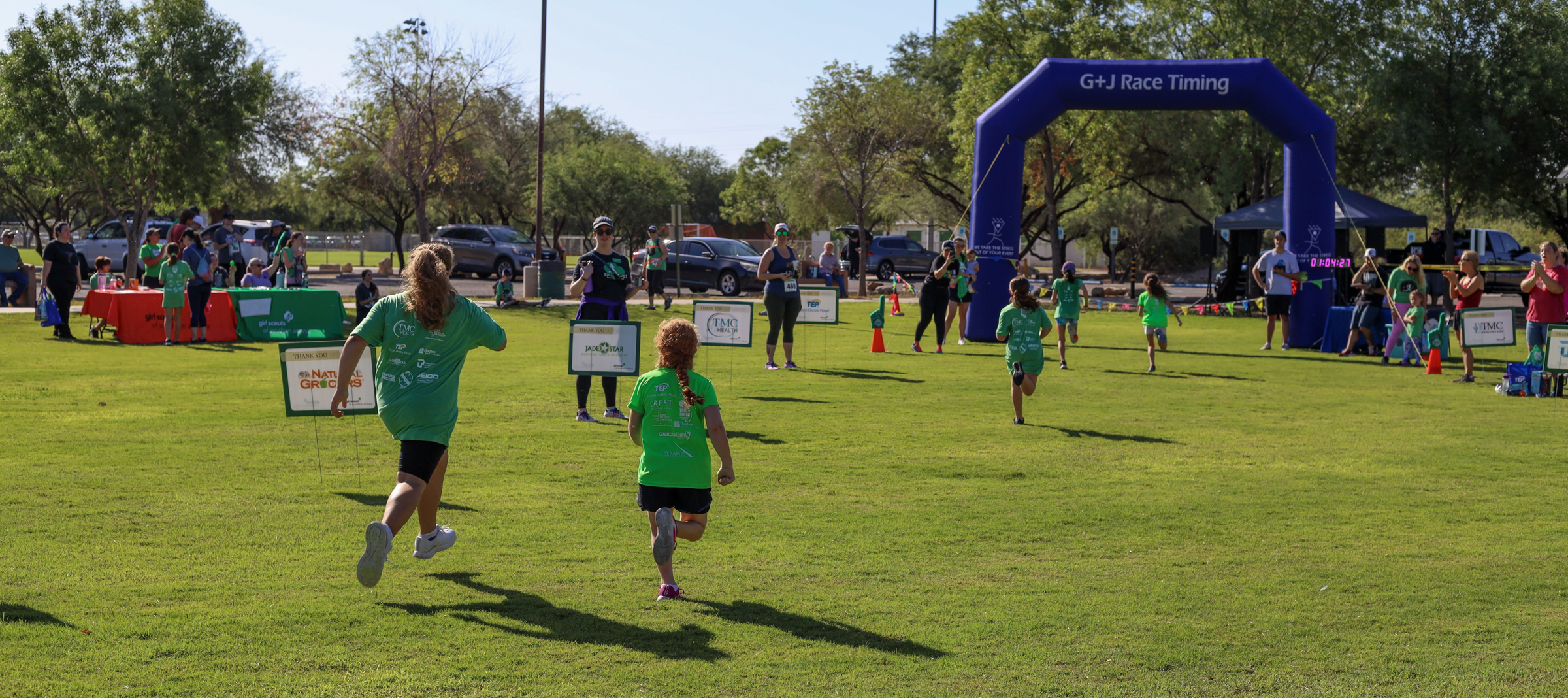 Registration
Q: Will there be Day-Of registration?
Yes, registration will be available the morning of the event, however a T-shirt may not be guaranteed. If you plan on registering the morning of the event, plan on arriving early to give yourself/your group enough time to register before races start at 7:30am.
Q: Are there rules around virtual registration?
For those registering for the virtual event and need their race packet shipped to them, please register by September 8th to guarantee a timely arrival of your race packet to your address.
In addition, to cover the cost of shipping t-shirts and other race materials, there is an $8 fee for virtual race packet shipping. The fee is necessary for every 10 participants. If your group is registering more than 10 individuals, please add an additional shipping fee to your cart so that we may cover the shipping costs.
Q: How far in advance do I need to register to guarantee a T-Shirt in my size?
We ask that participants register by August 15 to guarantee a race shirt in their size. Our shirts range from Youth X-Small to Unisex XX Large.
Q: Can I register multiple girls from my Girl Scout Troop?
Of course! We offer tickets bundles of up to four participants, however if you need to register more than four participants make sure to have the same team captain information and troop number for any additional tickets, and we will bundle the group together.
Q: Why is there an option to have a team name and a team captain?
As a family-friendly race, we'll have many minors participating. Team captains will be the responsible party for the participant and must be present on race day. This can be a parent, or troop leader responsible for their group. For adults racing in a group, you can use this option to group multiple ticket purchases.
Packet Pick Up & Race Day
Q: When and where do I pick up my/my troop's registration packets?
Packet pick-up will be held on Thursday Sept. 21, from 2:00 p.m.-6:00 p.m. and Friday Sept. 22, from 10:00 a.m.-4:00 p.m. at the south end of Angel's Place for Girls at 4336 E. Broadway Blvd. As a reminder, only virtual registrants had the option to choose shipping by checking the shipping option during the registration process. If you're not sure which option you chose, contact Sierra at smollenkopf@girlscoutssoaz.org to check.
Q: What if I can't make it to packet pick-up before the race?
Not to worry! If you're unable to pick up your race packet during the week, we will be offering packet pick-up the morning of the race. Be sure to arrive early to give you/ your group enough time to pick-up your packets before races start at 7:30am.
Q: Where do I wear my bib?
Racing bibs should be worn on the front of your shirt in order to be properly counted for race timing. Be sure to fasten your bib to your shirt before, or once you arrive to the park, so you're not rushed prior to the race. If you have multiple people in your group, make sure each person receives the bib that has their name on the back for accurate race results.
Q: What should I wear?
Thin Mint Sprint is all about fun! Wear whatever outfit that is comfortable and feels like you! Consider layers as lows may be in the upper 60s, and highs in the 90s. The course is mixed surface and relatively flat, so any running/ athletic shoe will be appropriate.
Q: What prizes are available?
GSSOAZ awards the first-place female and first-place male finishers with a medal for each age category:
1 Mile: ages 5-8, 9-12, 13-16
5k: ages 5-9, 10-15, 16-19, 20-29, 30-39, 40-49, 50-59, 60-69, 70+
Q: Where should I park?
See map below for parking details. Once you arrive, head towards Sponsor Parking, and a staff member will direct you from there! We do suggest arriving at the earlier part of check-in, since parking can fill up.