THANK YOU for making this year's Buddy Walk a huge success!
Join us on October 29th for the 20th Anniversary Buddy Walk
$57,446Raised of $100,000
Sponsor Our 20th Anniversary Buddy Walk
2022 is a special year for Manasota BUDS, as we celebrate our 20th year of service to the local Down syndrome community! The Buddy Walk serves as the primary annual fundraiser for our non-profit organization. All funds collected help provide meaningful programs, services, and support to individuals with Down syndrome and their families.
Your Support Matters
Inspiration Level
Our Premier Sponsor. Help us look to the future with developing respite programs and community plans for adults with Down syndrome.
Every Dollar Makes a Difference
Adventure Level
Join us in positively influencing others' lives by supporting small group activities that are education-based and focus on developing necessary life skills.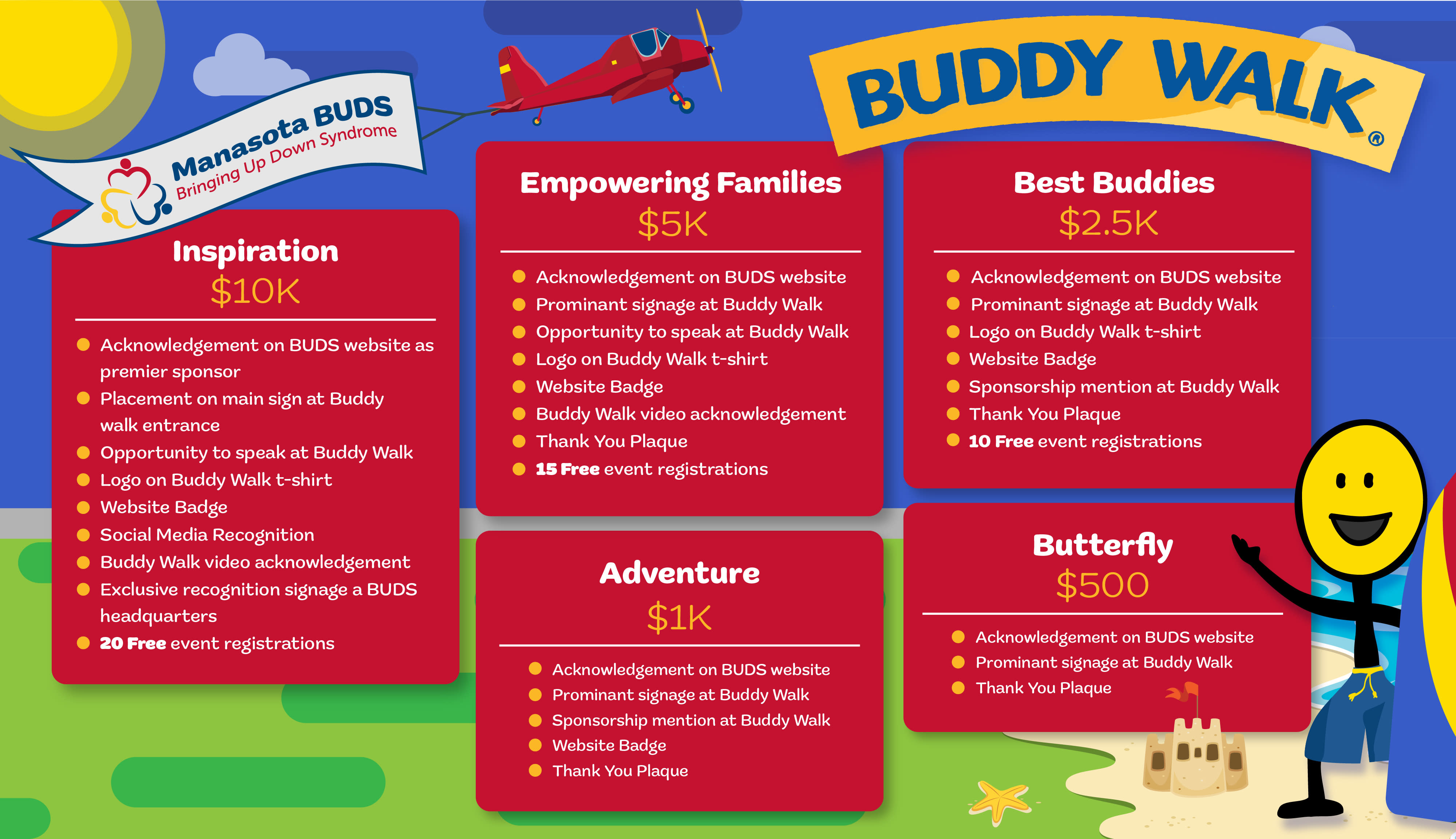 Who We Are
Manasota Bringing Up Down Syndrome (BUDS) is a volunteer-led 501(c)(3) non-profit organization that is headquartered in Sarasota, FL. In 2022, the organization celebrated its 20th year of service. Tax ID: 22-3871903.
Our Mission - to provide families with a neutral and supportive forum for sharing and networking, and to promote understanding and acceptance of Down syndrome.
Our Vision - To improve the lives of individuals with Down syndrome across the Florida Gulf Coast. To champion inclusion, awareness, and the well-being of the Down syndrome and Special Needs community.
Who We Serve - we provide individuals with Down syndrome and their families with services, programs, and support. Our members with Down syndrome range in ages from newborn to adult. Our highest concentration of members reside in Manatee and Sarasota Counties; however, we have members throughout the Florida Gulf Coast. Altogether, Manasota BUDS serves over 250 families impacted by Down syndrome.
Should you have any questions, or need assistance in donating or sponsoring, please contact us at info@manasotabuds.org or (941) 907-0499.