Murmurations for Mutual Aid: A Female Bird Day Birdathon
This Memorial Day weekend, join the Feminist Bird Club, the Galbatross Project and the Western Mass Asylum Support Network for this unique birdathon in celebration of #FemaleBirdDay!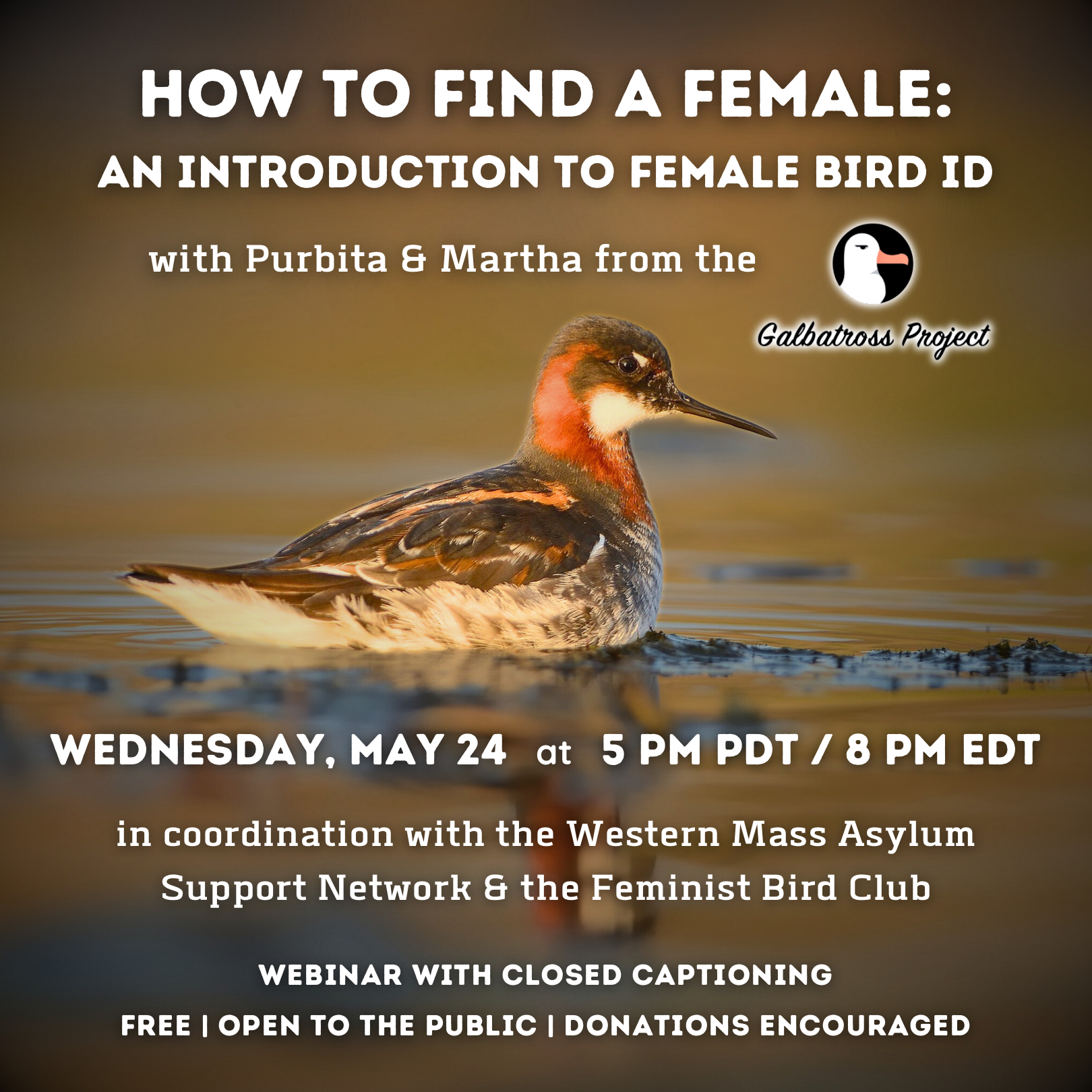 How to Find a Female: An Introduction to Female Bird ID
Date: Wednesday, May 24
Time: 5 PM Pacific / 8 PM Eastern time
Duration: 40 minutes plus Q&A

We'll cut to the chase: Female birds are really cool, and we at the Galbatross Project love them fiercely. But we've learned over the course of the project that finding females is an entire birding practice unto itself, and one that isn't well-covered in other birding milieu.
Join Purbita Saha and Martha Harbison, two of the co-founders of the Galbatross Project, for an introduction to female bird identification and how you can incorporate this into the way that you already appreciate birds.
Who is this workshop for?
Everyone who has a passing interest in bird ID! We want to stress that female bird ID can be done with any birding practice, including nest and feeder cams, backyard birding, feeder watching, regular birding outings, or just staring out a window.
How can I join?
This workshop will be free, virtual and open to the public, but donations to our Birdathon campaign are encouraged, and all proceeds will benefit the Western Mass Asylum Support Network.
Accessibility info
The presentation is in English, closed captions will be auto-transcribed by Zoom, visual content will be described, and a text-only summary of the talk will be distributed. An event recording will be available for registered participants until the end of the Birdathon. Please indicate on the registration form if you need any additional accommodations.