Lincoln Buddy Walk
To help DSAA NE fulfill its mission of advocating for the value, acceptance and inclusion of people with Down syndrome, we invite you to join us on March 18, 2023 for the 8th Annual Buddy Walk at Gateway Mall in Lincoln, NE
Rally Support for the Nebraska Down Syndrome Community
On Saturday, March 18th, Down Syndrome Advocates in Action Ne will host its 8th Annual Buddy Walk at Gateway Mall in Lincoln, NE. This family-friendly event is sure to be the happiest place on earth! There will be free activities for kids, a Raffle, Silent Auction, and more!
Top teams will win medals for the top fundraisers and largest walk teams. Show your support to the Nebraska Down syndrome community by donating, joining a team, or sponsoring our event!
The Buddy Walk was established in 1995 by the National Down Syndrome Society. Each year, the Buddy Walk serves as the primary fundraiser and Down syndrome awareness event for DSAA Ne. All donations received from this event help to support our programs, services and scholarships offered each year. Through generous donors and sponsors like you, we serve families across the state. Thank you for helping increase our advocacy efforts.
Walk T-shirts
This year our walk has a bee theme. It includes positive messages to Bee a friend, kind, happy, inclusive, extra and yourself. The t-shirt order deadline has passed. A small number of extra shirts have been ordered. Email info@dsaane.org to see if your size is available.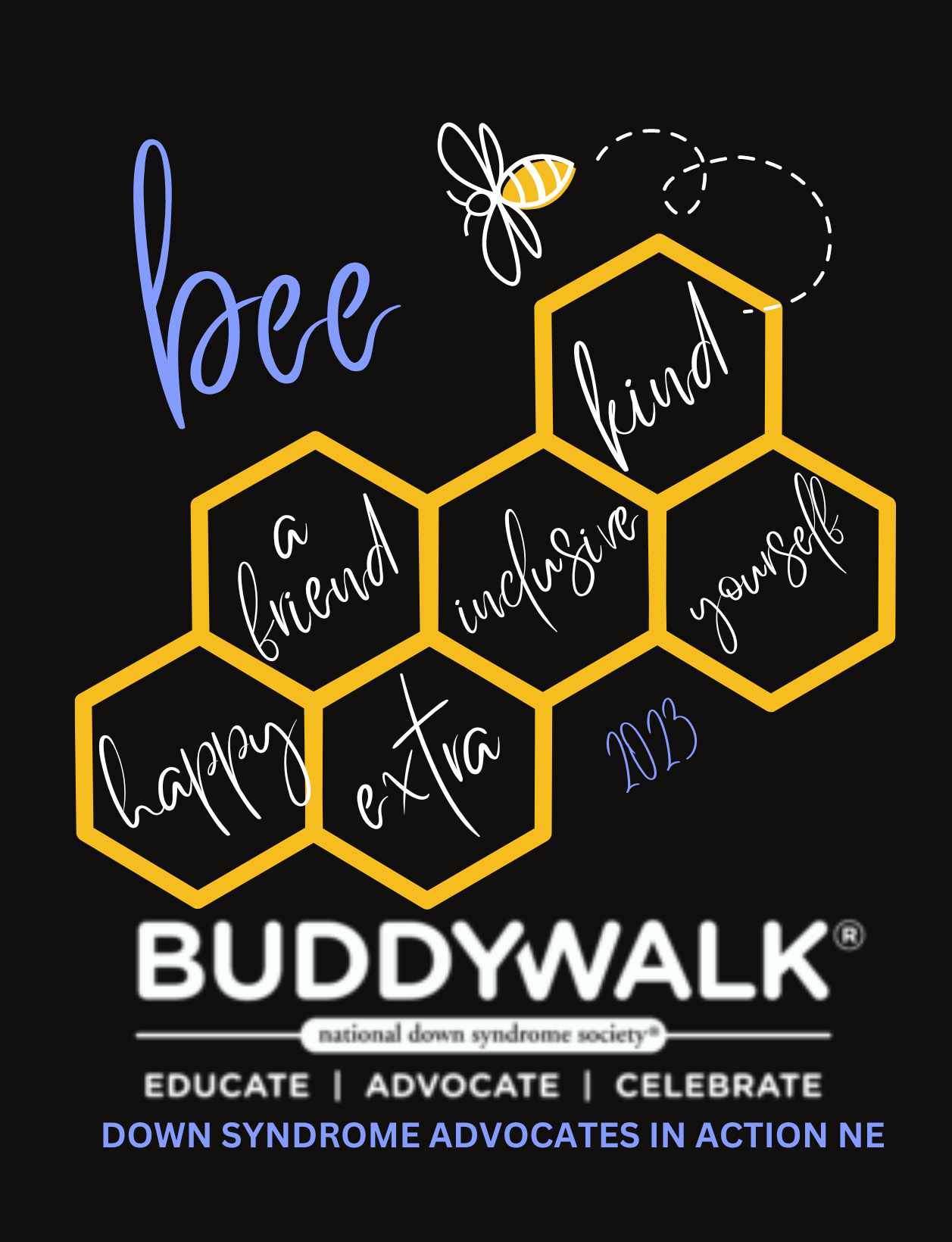 Every Dollar Makes a Difference
Even a Small $10 Donation can go a long way.
At Down Syndrome Advocates in Action Nebraska, we work daily to make sure individuals with Down syndrome are included in their communities. Small donations can be used to go to the movies, provide snacks at our Next Chapter Book Club, or be added to other donations to provide a scholarship for a local, regional or national conference.
THANK YOU to our Sponsors!