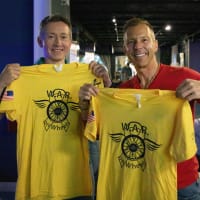 The War on Wheels (WOW) team rides to help give the children and their families strength & courage. We ride to create awareness and to help fund research, we need more to be done to end pediatric cancer.
At Instant Brands we are proud supporters of Cal's Angels and all its fundraising events. This year, starting August 21, Ben and Nick will be joining the War on Wheels by riding almost 800 miles in 7 Days.
Ben and Nick are both beginner cyclists (Ben only got his bike a few months ago!) and so what would be a massive challenge for experienced cyclists (riding about as much as the Tour de France riders do in a week) it will really put them to the test both physically and mentally.
100% of the proceeds will go to Pediatric Cancer Research and we are asking for your support.
The Goal for the event is to raise over $1 million ($250 thousand has already been donated). Ben and Nick are hoping to raise over $50k. No amount is too small and every dollar counts - Again 100% of the money raised will go directly to pediatric cancer research.
Contributions
113
Buck Global, LLC donated $1,000
Nick and Ben, your friends at Buck are wishing you the best in your ride and fight for this important cause!
Greg Matisoff donated $250
Anonymous donated $250
On behalf of The NPD Group, we are pleased to support such a worthy cause. Keep riding!