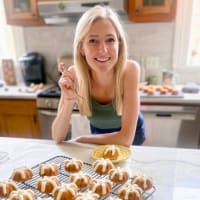 My March Mission
Hey y'all :) March is Kidney Cancer awareness month - something that has recently become near and dear to my heart. Last year, I was diagnosed with renal cell carcinoma. It was accidentally found, and turns out it was something that I had been suffering with for the past 3 years. I underwent a partial kidney removal in May 2022, and was then thankfully labeled as cancer free. While most people under the age of 50 never have to worry about this kind of cancer, it is something to always be aware of!
If you live in the Greater New Orleans Area I am raising money by fulfilling bundt cake orders, so please head over to this google form if you are interested!
https://docs.google.com/forms/d/e/1FAIpQLSdxt_BqTvT5ent24GBj22fS9f48_DSJ6RtHCPQtVwifyupxNw/viewform
If you live out of town, or if you would simply just like to donate though then press the donate button to continue!
Thank y'all for all your support :) Orange Up!!
Contributions
31
Mollie Thompson donated $100
Rachel O'Leary donated $465
Donations Raised from #OrangeUp Bundt Cake Fundraiser
Siddesh Ponnapakkam donated $20
Thank you Rachel!!
Marijana Jurich donated $25
What a great idea! Wishing you continued good health. A friend of Cindy Denson. She shared the link.
Anonymous donated $100
God Bless you, Rachel