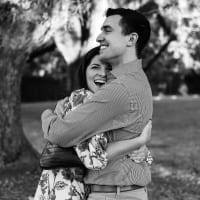 Support Our Mission to Fund Kidney Cancer Research
UPDATE 1/2/23:
For the past 9 months, Brandon has been undergoing chemotherapy & immunotherapy to combat the cancer recurrence in his lymph nodes. In November 2022, scans showed that the cancer had continued to grow despite the treatment. On December 20, 2022, Brandon had a retroperitoneal lymph node dissection at Mayo Clinic, where the doctors removed a significant number of cancerous lymph nodes. After he fully recovers from surgery, he will be back on treatment to kill any other remaining cancer cells.
Thank you all for the prayers, thoughts and good vibes! Please help us reach $75K to fund a research grant in Brandon's name. This grant will directly impact Brandon by moving the needle closer to finding a treatment that will cure him.
____________________________________________________________
March is Kidney Cancer Awareness Month. This month, we are committed to helping the Kidney Cancer Association raise money for kidney cancer research. More specifically, we are contributing all funds raised directly to Non-Clear Cell Renal Cell Carcinoma (RCC) research to hopefully lead to more effective treatments for this horrible disease.
In September of 2021, Brandon was diagnosed with undifferentiated RCC (non-Clear Cell RCC). He quickly underwent surgery to remove his kidney and the tumor, but the most recent CT scans showed cancer recurrence in some of his lymph nodes. Since the vast majority of patients with RCC have Clear Cell RCC, many advancements have been made in the study and treatment of that subtype. For Non-Clear Cell RCC patients, like Brandon, treatment options are more limited. By raising money to fund research for this type of cancer, we could directly impact Brandon and similarly situated patients in their long-term battles with this disease. So, please consider donating to our cause. Every little bit gets us one step closer to defeating this horrible disease.
Thank you all for your generosity and support!
The KCA is a 501(c)(3) nonprofit organization; federal taxpayer identification number 36-3719712.
Contributions
705
Walter Simons donated $500
Karen Monnin donated $100
We are praying for your continued recovery. Love, Karen and Keith Monnin
Caroline Ellis donated $300