Walk-A-Mile in My Shoes: A 56 Mile Walk in 22-hrs by Veterans
Vet2Vet of Ulster County is going on another Walk and you can participate virtually starting Thursday, July 1, 2021 to support those that will walk on Sunday, August 29, 2021- Monday, August 30, 2021 from Kingston to Albany without sleep.
"Walk a Mile in My Shoes" represents a Veteran's difficult struggles that leads to self-defeating thoughts. Many Veterans face a battle that can only be described as hard and painful. Through their struggles, abandonment and despair can carry them through a valley filled with substance usage and mental health challenges that result in suicide and homelessness. The 2019 National Veteran Suicide Prevention Annual Report stated, "Among U.S. adults, the average number of suicides per day rose from 86.6 in 2005 to 124.4 in 2017. These numbers included 15.9 Veteran suicides per day in 2005 and 16.8 in 2017." Our walk was inspired by Commander Thomas Zurhellen who walked across the country in 2019. His mission helped to bring more awareness that led the challenge to continue the fight to reach "Veteran Zero". With each step, we will continue that fight to bring awareness and heal our service members.
Vet2Vet of Ulster County's second annual walk will cover over 50 miles beginning from the Hudson Valley Nation Center for Veteran Reintegration (HVNCVR) located in Kingston NY and ending near the New York State Capital located in Albany NY. Our walk will be an estimate of 22 hours. Each continued step and every minute signifies the ongoing battles that veteran's face day-to-day.
WHY
Our military is trained to perform vital tasks under extreme conditions for the greater good of our country, while being taught to deal with physical pain and emotional discomfort. They are trained to suck it up and not complain. They are trained to do whatever it takes to complete the mission. During their time in the military the reality is, this is sometimes necessary. Unfortunately, many carry this mindset into the civilian world. They alienate themselves, avoid help, and sometimes fall through the cracks not knowing that help is out there waiting for them.
HOW
By integrating non-clinical services and program, veterans will be connected to resources such as The Veterans Administration (VA), Veteran Service Agency (VSA), and countless other programs that are specifically designed to help Veterans reintegrate into their communities. Whether that is by education, counseling, or comradery, the program tailors itself to the individual. Through direct interaction and peer-to-peer counseling techniques, the Vet2Vet of Ulster County program is designed to empower Veterans by reinforcing the same team building skills they are familiar with in the military.
WHO
The Vet2Vet of Ulster County Program is a non-clinical program that is intended to provide services and build a bridge to community resources. Sometimes all someone needs is time around like-minded individuals. The time spent in the Vet2Vet of Ulster County program reminds them of who they are. Some require a bit more help and can discuss their concerns and issues with Veteran Peers within the program. Others require further assistance and may not know what they need. That is when the peers and volunteer staff can help assess the veteran's situation and suggest resources that are available. We can't fix everything or help everyone, but we are just one more tool available to the military community.
Participate Virtually
Participants will be able to join the Veterans that will be walking the 90 km (56 mi) distance on Sunday, August 29th virtually by inputting their progress on Thursday, July 1st, 2021. Whether you begin on a trail or at a local gym, we encourage everyone to walk and feel united with our military service members. You can walk 5, 10, or 56 miles and track your progress then share it with friends and family. Your journey will show our large military community that they are supported and someone is ready to walk with them in any struggle they my experience.
We invite everyone to join us on Monday, August 30th within the last 3 miles of our walk when we arrive in Albany. Continue to follow us on Facebook as we share updates and introduce you to the Veterans Walking 56-miles without sleep to bring awareness to the issues and struggles that our military community encounter.
Top 3 Individual Fundraisers Will Receive A Special Gift
3 handcrafted items that were made and skillfully built by the Veterans Wooden Boat Workshop at HVNCVR will be awarded to the top 3 individual fundraisers. Items include an American Flag (Valued: $500), Adirondack Chairs w/ Table (Valued: $325), and Cutting Board ($150).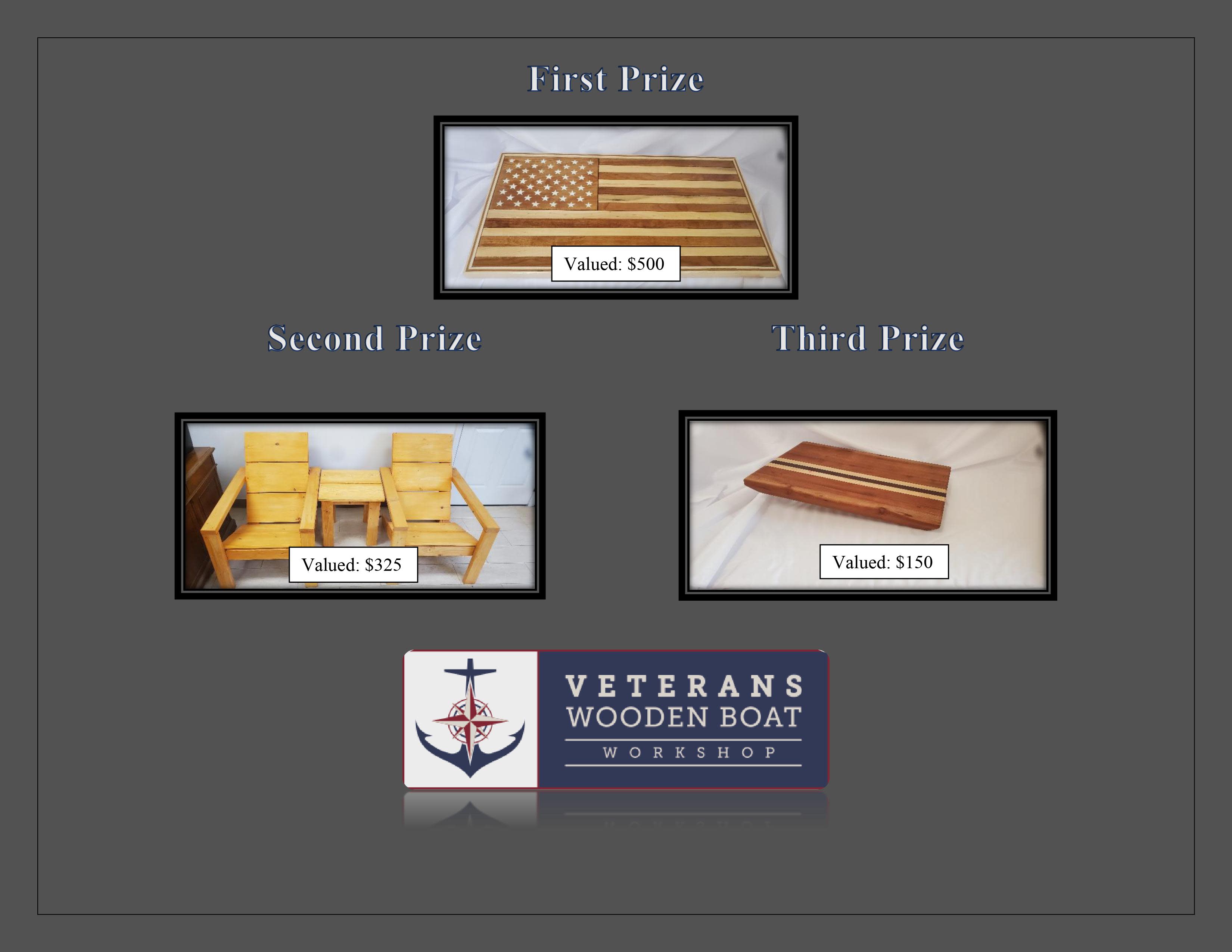 Donations
Christopher donated $100 to Wesley Salis
Megan Lis donated $22 to Kevin Shorette
Thank you for all that you do…
Anonymous donated $20 to Kevin Shorette
Kaylynn Tran donated $22 to Josh Kim
Cal Walker donated $100 to Kevin Shorette
Official Sponsors and Supporters