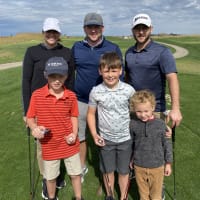 Team Profile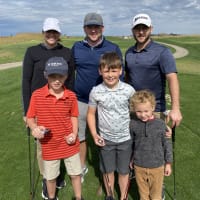 100 Holes in 1 Day to Keep Kids on the Course
Elise, Carson, Davis, and I are getting ready to participate in First Tee - Manhattan's 16th Annual Golf Marathon on Sunday, October 9th and plan to play 100 holes on the Colbert Hills Par 3 Course to support this wonderful local non-profit organization. As Executive Director of First Tee - Manhattan, I'm very proud of our recent chapter accomplishments and the tremendous growth we have seen in participants. In 2022, we saw a record number of registered participants with 613 local youth participating in life skills and golf lessons at Colbert Hills!
This will be the 10th year "Team Wall" has participated in the Golf Marathon and it has been a great experience for our family to spend time together on the golf course for a great cause. This was Carson's 4th year as a First Tee participant and has been playing in Manhattan Junior Golf Association tournaments for 3 years. Davis finally got his chance to start First Tee lessons this summer in the TARGET Level. His game has improved so much over the last year and looks forward to playing in MJGA tournaments next summer!
First Tee - Manhattan had a record breaking year with 613 youth participants who participated in the spring, summer, and fall programs at Colbert Hills Golf Course. We continued our outreach programs with the Boys & Girls Club and Flint Hills Summer Fun Camp where over 200 kids at those organizations received weekly First Tee lessons and a field trip to Colbert Hills. The First Tee School Program was taught in 20 elementary schools in USD 383, USD 475, and other local elementary schools where over 7,500 students engaged in a structured golf curriculum that promotes personal character development through the First Tee Nine Core Values and Nine Healthy Habits.
Participant registration fees range from $45 - $89 and the organization receives several compliments about offering an affordable youth development program in the Manhattan community. However, the average cost per participant is approximately $300 so to offset the registration fee difference the chapter raises money through grants, individual/corporate contributions, and special events such as the Golf Marathon.
Therefore, we would like to ask for your support with a per hole pledge that will make a difference for the future of this local youth organization. We are making a personal commitment of $1.00 per hole for a $100 donation to First Tee - Manhattan.
A donation example would be if you make a $0.50 per hole pledge and our team completes 100 holes then your contribution is $50 and fully tax-deductible. However, feel free to pledge any amount and ALL donations are important and add up! Every dollar raised will stay with the local chapter.
Best wishes and THANK YOU for supporting this wonderful and fun youth development organization!
The Wall Family