Based on 136 saves each worth $2.94
Joe Drennan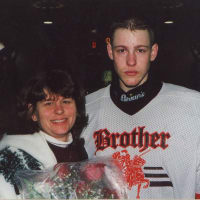 Fundraiser Profile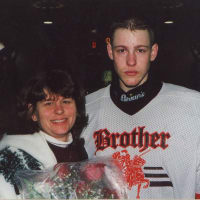 Making Mom Proud
On Mother's Day of this year I lost my Mom to breast cancer. She was one of my biggest fans and supporters of my love for the game of hockey. The October Saves Challenge is an opportunity for me to use the game I love to raise funds to help support those going through the terrible journey of fighting cancer.
Please consider showing your support if you have the opportunity by donating to my page. Every dollar counts! Thank you.
As a data analyst, I've noticed a trend in my stats. One game my save percentage will be in the 75% range, then the next is around 85%. Well, last game my save percentage was 84.62% so I wasn't surprised when my save percentage this week was 75%. Numbers I don't love, especially when I look at my goals against averages. If it wasn't for the Stop if Goaltending Game Day app's expected goals against vs actual goals against metrics I'd be feeling bad about the season I am having. According to the app, I'm stopping the shots I should be, only letting in 1.6 goals more than average.
This is one of those seasons where I can't focus on the stats or final scores. It's been a rough go with little success. I'm focusing on what I can control (how I react to situations and my emotions), and making adjustments to my game where I can.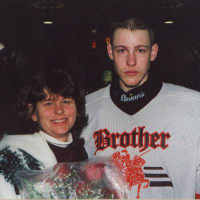 My GoPro battery wasn't almost dead when I got to the rink this week, so I could record the entire game. We had a short bench with nine skaters in a game that we ended up losing 6-3. I felt good in the first period, stopping 10 of 11 shots. The goal that went in caught me in transitioning from being down to getting back on my feet. The shot was a bit of a knuckle puck too. I continued to feel confident in the second period stopping 10 of 12 shots, one goal being a one-time pass, the other a net drive. It wasn't till the third period when fatigue was setting in and they piled on three more goals, two of which were snipes.
I would have liked to have played better, but I think of the episode of Goalie by Garmen where he mentioned focusing on what I can control. We're not going to win many games scoring one goal, and that's what it looked like we were going to finish the game with until two quick goals late in the game when the outcome was already decided. I've been focusing on some gaps in my play, and I've seen improvement there. I'm hoping that by they time the playoff roll around I'll have my confidence to carry the team and steal a game or two. We'll see.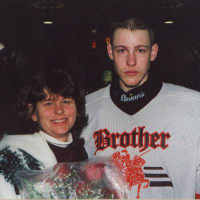 I thought that after playing the top team in the league to a hard-fought 5-0 loss last week we'd have a closer game against The Money Shot, a team that was only two slots above us in the standings. I was sorely mistaken. I faced 50 shots in the game, stopping 40 of them. Yes, I let in 10 goals, but you wouldn't know it after the game by the comments from the opposing team. As a team, we played probably one of our worst games. We weren't taking shots, we were turning over the puck not only in our own zone but in front of the net, and we couldn't connect any passes.
I felt good in the game. There were a few goals where I felt I was maybe a tick slower than I needed to be but didn't feel like I let in any terrible goals. Sure there were ones I'd like back like the pass out from behind the net that snuck between my legs before I could completely get into the butterfly or the snipe that beat my glove hand, but I felt confident in my play. I was directing rebounds with confidence, tracking the puck well, and just felt good. This was truly a game where I needed to focus on what I could control.
I'm close to a quarter of the way to the lofty goal I set for myself. As a reminder as to why I am participating in the October Saves Challenge, I am sharing the Tendy Talk podcast episode where I talk about losing my Mom.
Last night's game was against the top team in our division. They have won several championships in the division above us so I knew it was going to be a tough night. The team played well, and I did my best to give the team a chance, stopping 28 shots in a 5-0 loss.
Contributions
3
Joe Drennan donated $300
To the moon and back Bub
Trish Trentz donated $50
Great idea for fundraising.
Steve Prokos donated $50
Way to honor your mom. Good luck!