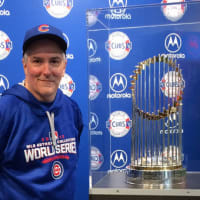 Fundraiser Profile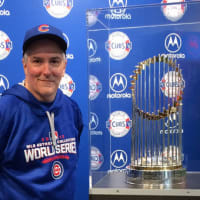 With your help, no family will ever have to choose between paying a bill and saving their child's life
For the second year I will be participating in the Annual Walk Off for Cancer presented by the Rizzo Family Foundation. We will again be participating virtually and will be walking in the Chicago area. We would like to invite you to join the team, possibly contribute, or wish us good luck.
Please feel free to send me an email at patjmoriarty@gmail.com if you have any questions about the walk and so I can also share information about our virtual walk and after walk activities if you are interested. Thank you very much for helping out a great charity.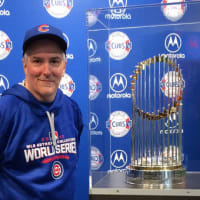 Patrick Moriarty
1 yr. ago
A quick reminder that we will have a drawing to win a chance to go to a Cubs home game with Larry, Tommy and me for all contributors on my page. We will do the drawing on Sunday, November 14 and will announce the winner right here. It is not too late to donate and qualify to win. I can't think of a better prize.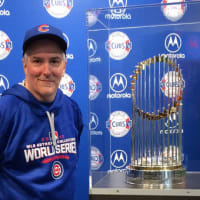 Patrick Moriarty
1 yr. ago
What a beautiful day we had in October for our virtual walk. Here is a picture of our team during the walk.
It is not too late to make a contribution if you are interested in helping out.
Thanks to all of those who walked, donated, or simply wished us well.
Thanks everyone!
Pat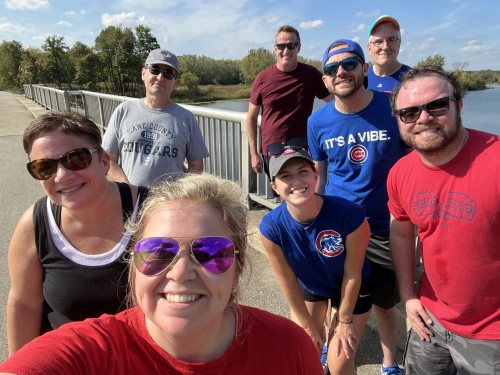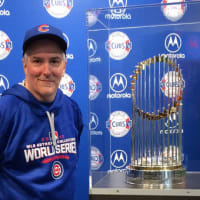 Patrick Moriarty
1 yr. ago
We have a date and location for the virtual walk for those who would like to join us. We will walk on Saturday, October 9 at 1 p.m. in Busse Woods in suburban Elk Grove Village. We will then get together for cold beverages and sandwiches at Pop's Pizza and Sports Bar (http://popspizzasportsbar.com/) in Roselle around 3 p.m. The rain date is October 16.
Contributions
16
Anonymous donated $35
Go Cubs!
Eugenio Suárez donated $25
Cyndi Constertina donated $100
Such a great cause!!
Kris Bryant donated $50
Go Cubs.
Fundraising Incentives
Individual Donor:
$250- One (1) autographed photo
$500- One (1) autographed baseball
$1,000- One (1) autographed Anthony Rizzo bat
$2,500- One (1) autographed Anthony Rizzo bat and One (1) autographed ball;
$5,000- One (1) autographed Anthony Rizzo bat and one (1) autographed jersey;
$10,000- One (1) autographed baseball, one (1) autographed bat; and one (1) autographed jersey;
$25,000- One (1) autographed baseball; one (1) autographed bat, one (1) autographed jersey; Mention from podium at event, Eight (8) tickets to a game during the 2022 season (wherever Anthony is playing)