Based on 131 burpees each worth $7.64
Andrew Bueno
Fundraiser Profile
My Story
I'm supporting my LGBTQIA+ fam and friends by jumping down and jumping up repeatedly until I lose my breath for an important cause! Help me reach my goals to help out youth on National Coming Out Day because no one should be afraid to be who they truly are.
FACTS (via The Trevor Project)
- Suicide is the 2nd leading cause of death among young people ages 10 to 24.
- LGB youth seriously contemplate suicide at almost three times the rate of heterosexual youth.
- LGB youth are almost five times as likely to have attempted suicide compared to heterosexual youth.
- Of all the suicide attempts made by youth, LGB youth suicide attempts were almost five times as likely to require medical treatment than those of heterosexual youth.
- Suicide attempts by LGB youth and questioning youth are 4 to 6 times more likely to result in injury, poisoning, or overdose that requires treatment from a doctor or nurse, compared to their straight peers.
- In a national study, 40% of transgender adults reported having made a suicide attempt. 92% of these individuals reported having attempted suicide before the age of 25.
- LGB youth who come from highly rejecting families are 8.4 times as likely to have attempted suicide as LGB peers who reported no or low levels of family rejection.
- 1 out of 6 students nationwide (grades 9–12) seriously considered suicide in the past year.
- Each episode of LGBT victimization, such as physical or verbal harassment or abuse, increases the likelihood of self-harming behavior by 2.5 times on average.
Help us change these statistics, then push as hard as we can supporting the things we care about for the election!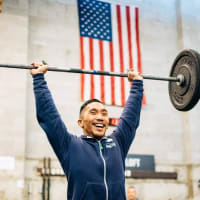 Andrew Bueno
National Coming Out Day
BIG THANKS to all of my donors. You. Are. Awesome!

I hit 131 with plenty of rest breaks!


Thanks to all of those who donated! We appreciate you and hope that you vote, Vote, VOTE!
Trying to get used to volume again, and will be trying to do the Burpee/Nose-Breathing Ladder every day! You should try it too:

https://youtu.be/qnOteovRRDk
Contributions
0
Barry Faught donated $113
Nice job AB!
Niko Camagong donated $25
Letssssgoooooo
Regina Gaudette donated $75
Love the love. Get after it Andrew!
Sheena Camagong donated $65
Go babe go! Go Foundation Go!
Gaylinyet Roberts pledged $1 per burpee ($131)
Thank you to all the coaches for burpee-ing for such a great cause. You guys are the best. Andrew, I pledged PER burpee. Get to 200. I dare you!
OUTAthletics is the world's largest international initiative for bringing together LGBTQ+ athletes and allies to sweat for a cause in a safe, inclusive fitness environment. Our pride is in the diversity we represent within the fitness industry and openly invite anyone to join our welcoming community. We strive to create an inclusive community of all walks of life and inspire you to feel good about yourself, your workouts and your life.